31 Days, 31 Books
The Reformation is not only history, but the event itself was a series of effects growing out of a long series of historical causes.  The Reformation did not start on October 31, 1517.  No historical event ever started on the date that we remember as its start.  The one thousand years of Medieval European history, or rather, the one thousand years of Christendom were the foundations that pushed events toward the tearing and rebuilding and renovation that we call the Reformation.
Any serious study of the Reformation, whether approached as history or theology or both, will involve reaching back into the roots.  In a very real sense, we can say, "No Augustine, No Luther. " And, "No Augustine, No Calvin."  Concerning the foundational first 16 centuries of Christian history, one can profit greatly by spending some money and then time on the writings of Philip Schaff.
Philip Schaff (1819-1893)  was a German theologian and historian who came to America in the 19th century.  He compiled a history of some eight volumes in the late19th century, titled A History of the Christian Church.  Volumes 7 and 8 cover the German and Swiss Reformations. Volumes 4 through 6 cover the Medieval period.  Although this set is an older work, it is still quite valuable.  Schaff was extensive in his survey of events and in his bibliographic references.  He was a serious Christian who was devoted both to Christ and scholarship.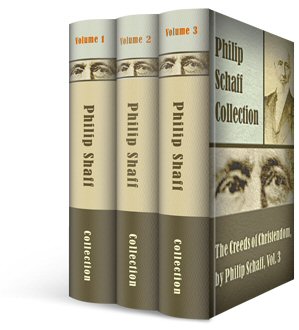 Another valuable resouce by Philip Schaff is his 3 volume Creeds of Christendom.  There is much more here than just Reformation documents.  Of course, there are lots of creeds and confessions that are linked to the Reformation.
Philip Schaff's inaugural address at the German Reformed Theological Seminary in Mercerberg, Pennsylvania was originally delivered in German.  Schaff, after all, was a native German.  It was translated into English by John Williamson Nevin.