A delightful blend of my academic, professional, and leisure life can be found in that rich, multi-layered term "the South."  From the colonial settlements to the War Between the States to the present, Southern history has been a major interest.  Beginning with William Faulkner in my high school days, Southern literature has been a consuming passion.  Add to that, a love of Southern music (in its many varieties), Southern food, Southern language, folkways, customs, and heritage.
I am tolerant and accepting of people whose lives and interests exclude things Southern.  I am sure they must have something that fills the empty niches of their existence, so I will not quibble with them.  But I love the South.  I humbly acknowledge Southern faults, sins, inconsistencies, shortcomings, and frequently unbearable weather.  Nevertheless, I love the South.
That being the case, I want to call attention to an outstanding web-site that deals exclusively with all aspects of Southern life.  It is called PorterBriggs.Com–The Voice of the South.  My friend Bill Izard manages the web-site and writes many of the stories found there.  This web-site features lots of material about Southern towns, music, local culture, and history.  The range of stories and topics is somewhat overwhelming.  With short enjoyable stories, it is easy to enjoy quick glimpses at towns and people you have never heard of, or to read about Southern legends and history.
Another reason I have for liking this web-site is that I am a contributor.  If you like what you read on this blog, you will like The Voice of the South.
Here are a few links to some of my recent posts on that web-site:
This past month, I wrote a story on the history of country music.  While far from telling the whole story, it does hit a few highlights of how country music developed as the recording industry and radio spread across the state of Tennessee.  That story can be found here:  The Story of Country Music in Tennessee.
I also recently did a review of one of my favorite books.  That book is Hie to the Hunters by Jesse Stuart.  I first read the book around 1971 when I was in high school.  Now, I teach it every other year to my junior high class.  The classes love the book, and I find myself enjoying more and more.  My review of that book can be found here:  Jesse Stuart's Hie to the Hunters.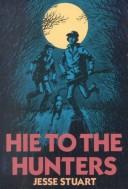 I have just another story today, but I will wait on revealing the topic.  Add PorterBriggs.Com to your favorite blogs and enjoy viewing the South from the porch.