Readers battle over these matters.  Authors agonize over this.  Actually, some don't agonize; rather, they go to the bank…often.  Two people who read lots of books find themselves with nothing to talk about.  There are snobs on the one hand; and addicts on the other hand.  It is the issue of high brow and low brow.  It is not just confined to the world of books, but pertains to music and other artistic forms as well.  There are the patricians and the plebians.  There are great divides.  There are snubs and snobs.
It is the old issue of what makes great literature great literature.  It is the issue of timeless works and the latest best seller.  It is the issue of refined works of lasting literary merit versus pot boilers.  It is the difference between what literature professors read and teach versus what the man in the street or the woman at home reads.
It would be a lot easier to discuss this matter if it were a clear case of good versus bad, great versus mediocre, lasting versus latest.  There are no unbending, absolute rules determining what is and what is not great literature.  Even the aficiandos of great literature cross out selections on each other's defining canons.  Also, one cannot reasonably assume that great literature ended when William Faulkner died in 1962, or for other purists, when Shakespeare or Dante or Jane Austen died.  We don't always know new stuff will last, but we don't know what old stuff will last either.  Herman Melville went down to obscurity, strapped to the side of his great white whale, and did not emerge for a generation.  Sir Walter Scott is off the required reading lists of most serious literature programs, but I figure that dogged Scot Scott will show up again in time.
I must confess to having spent most of my novel reading life in the classics, engulfed in the literary classics.  This began as a serious quest when I was in my junior year of high school.  In what might be considered the dullest life ever lived, one of my favorite memories is of a Labor Day weekend where I read A Separate Peace by John Knowles and Of Mice and Men by John Steinbeck.  We had a screened in porch, and it was there that I spent that long weekend.  Later that year, I discovered Faulkner, Hemingway, Evelyn Waugh, Kipling, and a host of other writers.  Literature began its long association with history as the subjects that consumed my interest.
Over the years, there were only a few rare occasions when I read a book that had been on a recent best sellers list.  One of the few was Cold Mountain by Charles Frazier.  It did seem to have some literary gravitas.  I was usually aware of who the best selling authors were, but I did not read them.  Nor did I read mysteries, thrillers, spy novels, westerns, romances, science fiction, fantasy, or any other type of popular literature.  There were a few exceptions.  I read Sherlock Holmes stories.  I trudged through C. S. Lewis' space trilogy and a volume or two of the Narnia series.  I managed to read The Hobbit.  But again, those cross the lines to the more literary stuff.
All of this is to say that I now read quite a few more popular, less literary, more fun, less weighty novels.  I started a few years ago by reading Bret Lott's books.  I read a few of John Grisham's novels, such as Bleachers.  After enduring my wife's laughter over Jan Karon's Mitford series along with her constantly saying, "Father Tim sounds just like you,"  I read the books myself.  Wondering what made popular literature popular, I read a Nicholas Sparks romance.  I read Tom Wolfe's Man in Full and Anne Tyler's St. Maybe and novels by Larry McMurtry, Lief Enger, David Guterson, and others.
Then I discovered Daniel Silva and his Gabriel Allon series of spy/espionage stories.  Actually, I didn't discover Silva, rather I was pushed toward him by George Grant.  After the first read, my literary comment was "Okay.  Enjoyable enough."  The second book I liked better, and by the third one, I was hooked.  I like them so much that I force myself to space out the readings.  From Silva, I have branched out to other authors such as Steve Berry, Nelson DeMille, Alan Furst, and Brad Thor.
Reading of Late:  An Unexpected Experiment
Recently, I finished two novels.  It was only after finishing them both that I thought of them together.  The first was Thunder Point by Jack Higgins.  This story began in World War II with the evil Martin Borman escaping Berlin and making his way toward South America.  Then the story shifts over to former IRA fighter and assassin Sean Dillon, who is recruited by the British Intelligence to find a lost U-Boat that contains top secret and damaging information.  There are killings, fights, lies, danger, beautiful women, unexpected deaths, and enough plot movers to keep the story going.  It quickly became a fun page turner.  Then it was over.
The other novel was The First Circle by Alexander Solzhenitsyn.  This story concerns zeks in the sharanska in Soviet Russia.  Zeks are political prisoners and the Sharanska was a research and development bureau made up of generally highly skilled gulag prisoners.  This is more than just an expose of Communist atrocities and evils, although that element is there. There were many biographical elements within the book, but this was not Solzhenitsyn's autobiography.  This was a soul searching book. This was the story of Dante's first circle of Hell, where things are not so bad, but not good either.  I started it in April and finished in August.  It was not an easy read, and at times, I was totally lost.  There were engaging chapters, but sometimes, I had to force myself back into the camp with the zeks and the dark world of Soviet Russia.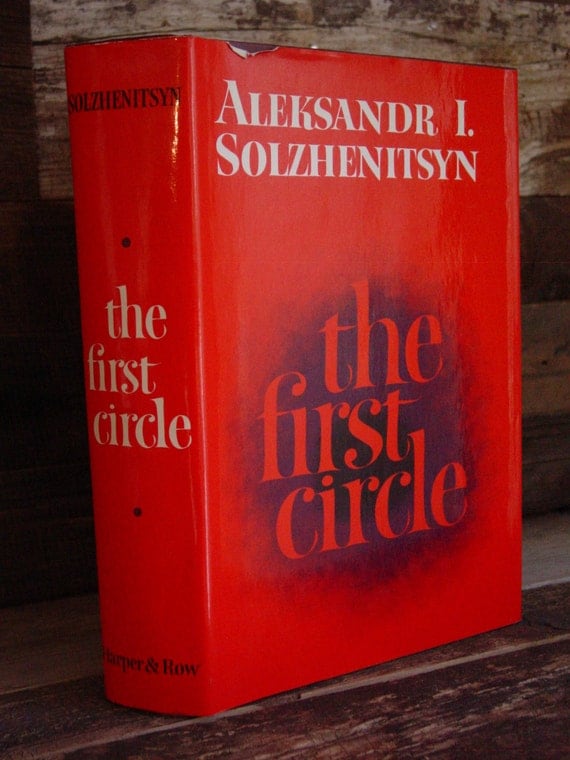 Both Higgins and Solzhenitsyn were good writers.  Both books were well written, and I wish I could write something comparable to either of them. Both left me wanting to read yet another book by the authors.  I bought another Higgins novel and am planning on reading Cancer Ward by Solzhenitsyn.
Here are the differences:  When I finished Thunder Point, the story was through.  It was fun, fast, and engrossing, but then it was over.  When I finished The First Circle, I immediately began looking up sources on the book.  Then I went back to the book The Other Solzhenitsyn by Daniel Mahoney and reread the part about The First Circle.  I discovered that the version I read was only 87 chapter long, but in 2009, the complete version of 96 chapters was released.  I find myself still thinking about the book.  I am still moved by the scene where one of the prisoners was granted a half hour visit with his wife (with no physical contact).  The arrest and treatment of another person is still terrifying.  The struggles, the conversations, the acceptance of life inside the prison still resonates.
In reading Thunder Point, I was constantly thinking, "What will happen next?"  When reading Solzhenitsyn, I am still thinking, "What happened in that book?"  In time, I will want to read Solzhenitsyn novel again.  If I could read it with others, that would be even better.  In time, I will read some more of Jack Higgins' writings, along with Silva.  But great literature, like The First Circle, is never completed.  The questions within the heart of the book keep coming back.