In 1986, conservative author, thinker, speaker, and teacher Russell Kirk gave a talk at the Heritage Foundation.  His topic was ten conservative books.  Although he had been a key leader in the conservative movement for decades and had written extensively, other than mentioning some introductions he had done for these books, he did not tout his own works.
I love book lists.  My immediate reaction is to check off the ones I own and the ones I have read.  Then I begin to figure out which ones I simply must buy–immediately, if not sooner.  Finally, I grumble at books that are not on the list, but should be.  All in all, it is quite fun.  And, often it is humbling, challenging, and humiliating.  Kirk's list has all of those features.  I own far too few of them, have read fewer, and am not really aware of some of the authors and books listed here.
I am currently on a quest to learn more about Russell Kirk.  On the one hand, I have been reading things by and about him for years.  Frequent reading of National Review magazine, of the writings of William F. Buckley and other conservatives, and of conservative materials have put me in contact with Kirk along the way.  I own at least a half-dozen of his books.  Now, I have the brand new biography of Kirk by Bradley Birzer.  So, I feel compelled to begin an all out assault on learning more about him.
Let me reflect on these 10 book selections that Kirk recommends in the essay found here.
 Reflections on the Revolution in France by Edmund Burke
I have this book on Burke and several others on the man, including Kirk's biography, titled Edmund Burke: A Genius Reconsidered.  No one studies the American War for Independence without becoming aware of Burke's dissent from Parliament and nod of agreement toward the colonies.  Nor does one dip into writings of those who refrain from embracing the French Revolution without realizing how important Burke was.  I have not read Burke enough to even earn the respect of the lowliest sweeper in the great halls of conservative thought.
2.  Democracy in America by Alexis de Tocqueville
I am glad to report that I have numerous editions of this work.  Also, I have read extensively in it and have assigned and taught through parts of it in my classes.  That being said, I am still an elementary student in regard to this writing.  It is not easy to interact with in high school classes, but I still think students ought to have a little working knowledge of it.  If I were to design a college with a history major, this book would be required reading.  Side note:  In his taped lecture series on American History, Dr. R. J. Rushdoony gave a large number of lectures on this book.  They were my first acquaintance with this classic.  Finally, Tocqueville is quoted often–and sometimes ficticiously–by all manner of writers on topics relating to America, politics, and culture.
3.  The American Democrat by James Fenimore Cooper
I have long been a fan and cheerleader for James Fenimore Cooper.  Perhaps it is the mere challenge of engaging kids in our day and time with the plodding plots, stilted dialog, and antiquated syntax of the Leatherstocking Tales.  I have enjoyed teaching both The Deerslayer and The Last of the Mohicans and am bound and determined to read more of Cooper.
4.  The American Republic by Orestes Bronson
I recently bought this book simply because it was on Kirk's list of recommendations.  I will be trying to get to it next year since I will be teaching American Story Humanities.  I admit that Kirk's nod of approval–plus a good price–was enough to convince me to acquire the book.
5.  Liberty, Equality, Fraternity by James Fitzjames Stephen and  6.  Is Life Worth Living? by W. H. Mallock
I regret to confess to not owning these books or being familiar with them.  They tend toward being a bit high priced, so I will likely wait a while before getting them.
7.  Democracy and Leadership by Irving Babbitt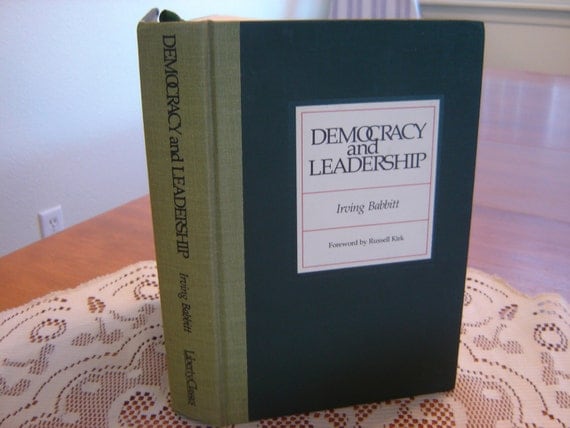 At some point in the past, due to either finding a bargain price or some recommendation, I bought this book.  It has patiently waited on my shelf in hopes that someday I will pull it down and read from it.
8.  The Attack on Leviathan by Donald Davidson
I came to know of Donald Davidson some years ago and began buying everything I could find by him.  He was one of the Agrarians, and arguably one of the best and most uncompromising of the Agrarians.  He was also an outstanding literary critic and a fine poet.
9.  The Social Crisis of Our Times by Wilhelm Ropke
I would like to think that this book is in my library somewhere, but I am just not sure it is.
10.  Notes towards the Definition of Culture by T. S. Eliot
Eliot's brilliance is widely acclaimed.  Russell Kirk wrote a book on Eliot.  While we often think of him as the poet who wrote some defining 20th century modern poetry, he also wrote some powerful essays, including this work and another work often coupled with it titled "The Idea of a Christian Culture."
All of these books will have to wait because next up on the reading list is Bradley Birzer's new biography of Russell Kirk: