I attend an early morning seminary class on theological subjects.  It begins at 6:00 a.m.  Yes, I know that Robert Murray McCheyne, Samuel Rutherford, Jonathan Edwards, and others would have already been up for hours by that time.  And I know that George Grant has already run 65 miles, written a chapter or two of a book, and read 3 books by that time.  But I am a challenged person.  I still think of the sixth hour as the middle of the night, so this is "one large step for mankind" in my case.
There are two companions in the classes with me.  On my right sits the student who provides lots of encouragement and incentive to read.  His name is Morning Coffee. He is usually strong, black, and bitter, with me sharing only the latter attribute.  But he does wonders in terms of helping me focus.
On my left, all too often is another companion.  This companion, suffering from severe ADD, ADHD, hyperactivity, and a total lack of intellectual curiosity is Callie, the dog.  Contrary to appearances, she is not even a good listener.  She just wants to play.  She has an assortment of toys that she brings to me so that I can throw them, or use them in tug-of-war.  After doing that for a few minutes, she is content to fight with wolf-like ferocity the very hand that feeds her. One would think–upon seeing her–that she would be a good listener–but she is not.  Nor is she a good student or a help, but she forces me to be awake and pay attention.
Currently, my class begins with a study on the Minor Prophets from a book titled The Message of the Twelve: Hearing the Voice of the Minor Prophets by Richard Alan Fuhr, Jr. and Gary E. Yates.  The Minor Prophets are the twelve books at the end of the Old Testament, starting with Hosea and ending with Malachi.
I, for one, experience lots of problems with reading and understanding the Minor Prophets.  First, the common attribution of them being "minor" seems to indicate that these writings are less important than other revelations in Scripture.  Second, the writings are short, often written in poetic form, and focused on local events of the time.  The historical context is often vital to making sense of the writings.  Third, since they come last in a normal reading of the Old Testament, they often get the quick read (as in, "I am hurrying to get through") from me.
We often remember Jonah's story, but that is because it is different in style than most of the other prophets.  We also tend to notice a few particulars out of these writings that relate to the birth of Christ or other New Testament events.  Overall, we neglect this rich source of Bible revelation. I must admit that when I first saw this book, I only noticed the title and not the subtitle.  I thought it was going to be a study of the Apostles.  There are some fine resources on the Apostles, such a study would be inviting.  But I am glad that I am now "signed up for and sitting in" a class that will help enrich my reading of those short orations that were given to call the people of God back to God.
This work is suitable for a Bible college or seminary classroom.  This is a serious analysis of the prophets with the first portion of the book dealing with common themes and structure of the writings.  I am just now ready to begin the portion that focuses on the individual books.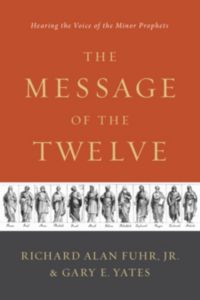 I will soon be starting a reading and study of  God and Politics in Esther by Yoram Hazony and published by Cambridge University Press.  This book is a sequel of sorts to Hazony's The Philosophy of Hebrew Scripture, also a Cambridge Publication.  (My copy of the latter book is autographed!)  I first became aware of Hazony's writings through Paul David Robinson's comment in a discussion group a few years back.  Robinson is a Ph.D. candidate who hails from Northern Ireland, but is studying here in the U.S.
Hazony is a Jewish scholar and is the Provost of the Shalem Center in Jerusalem and Senior Fellow in the Department of Philosophy, Political Theory, and Religion.  Because of his Jewish perspective, the insights from his books are going to be way outside the box of a southern (basically fundamentalist) Calvinistic Presbyterian.  While there is plenty need for me to be grounded more and more in what I am already convinced of, I also need the challenge and mind-and-soul expansion that comes from reading Hazony.
I noticed a few weeks back that a local church has a women's study on the Book of Esther.  I think that is well and good, but I also recognize that we all have a hard time with Esther, apart from the fact that it is a good story.  We also struggle with how to blend or separate religion and politics.  I suspect this book will be a bombshell in the most positive sense.
Speaking of politics and religion, I recently read a book titled The Individualist in Church & State by Frederic de Rougemont.  This book is published by Wordbridge Publishers.  I try to read everything Wordbridge publishes.  Run by e-friend (meaning we know each other via e-mails) Ruben Alvarado, a brilliant scholar himself, Wordbridge publishes a number of books on theology, politics, economics, philosophy, literature, and the connections between those fields.
I am convinced–more than ever–that now is the time for serious political reading and thought.  The last election–whatever one might think of the outcome–was the result of lots of shallowness on the surface, but lots of demographic, economic, social, cultural, and philosophical twisting and turning below the surface.  Christians were just as bumfuzzled as the rest of the nation.
Talk radio–with its few strengths and many weaknesses–cannot provide a foundation for Christian thinking about politics.  But these basic issues did not begin with President Obama and Secretary Clinton, nor with the previous Presidents Clinton and Bush and Bush.  There is a need to be more deeply grounded in the political history of Christianity.
There are many useful books from the past and about the past on these topics.  Just note that Wordbridge has also published Groen van Prinsterer's Christian Political Action in an Age of Revolution.  The great Groen van Prinsterer was not the lone European with a vision for a Christian political order.  One of the things that astounded me about this book was the appendix that covered the life of the author.  I was not sure I had ever heard of Rougemont before reading this book, but in his day, he was an incredibly prolific author and commentator on a host of theological and political topics.
Rougemont believed that "revivalist movements spread individualism into the church, which went from there to society at large. In turn, this led to the radical separation of church and state and the consequent triumph of unbelief in and through the state."  (From the back cover.)  The argument in the book concerns another time and set of circumstances, so this book is not a picture of modern America or Europe.  But that only adds to its worth and necessity–see C. S. Lewis' classic essay "On the Reading of Old Books."
As I was thinking about The Individualists in Church and State, my mind shifted to a book I finished just today.  It is titled A Gospel Without Limits: Good News for Family, Church, Culture, Cosmos by my friend (who is more than an e-contact) P. Andrew Sandlin.  As a long time proponent, speaker, writer, and thinker for the broad concept of Christian culture, this book is yet another installment of what will hopefully, someday be a massive work on Christianity and culture by Sandlin.
The problem of individualism, or of salvation that is only a heart-changing issue, is a focus of this book.  Sandlin is building upon the works and influence of men such as Abraham Kuyper, Francis Schaeffer, and others who saw Kingdom building as part of the Gospel.  Christianity impacts the family, and no where is such impact more needed today than in the family.  It may be a given that the Faith impacts the church, but the broader components of changing–not just slightly brushing up against–the culture is a key area of much needed Christian involvement.
The world or cosmos is not just a failed creation action of God that He will replace with heaven.  God is redeeming us to dwell in a new (re-newed) heaven AND earth.  Future–yes, but also present, here and now.
I must also mention that I love Andrew's footnotes and book references.  He and I share a lot of reading updates and book suggestions.  His reading background is extensive and his knowledge of theology continually astounds me.  I read the footnotes as commendations on books he and I both have read and value and as suggested reading assignments and purchases for the future.
Here are some of the books he quotes, references, or plugs in this book:
Henry R. Van Til, The Calvinistic Concept of Culture.  Amen and amen.  Read and could profit from reading it another 10 times.  A blockbuster.
John Murray, Redemption Accomplished and Applied.  Read this and other Murray books years ago.  John Murray is top shelf.
Cornelius Van Til, An Introduction to Systematic Theology.  Have but have not read.  Sandlin's quotes and use of Van Til is a not-so-subtle suggestion that we all need to be reading that Dutchman often.
Stephen C. Perks, The Christian Philosophy of Education.  Perks is a pillar of Christian thought in England.  This book is first rate.
John M. Frame, The Doctrine of the Christian Life.  Andrew and I agree that anything by Frame–even his grocery list–is worth reading.
H. Henry Meeter, The Basic Ideas of Calvinism.  Great book that should be read after Kuyper's Lectures on Calvinism.
Sam Storms and Justin Taylor, For the Fame of God's Name.  Excellent collection of essays honoring John Piper.
David Wells, The Courage to be Protestant.  Have, but have not read.  However, have read and profited from many of Wells' books.
Francis Schaeffer, The Great Evangelical Disaster.  This is one of a very few books by Schaeffer I don't have.  Pity me.
Alister McGrath, Christianity's Dangerous Idea.  Anything written by McGrath is either something I have or want.
Carl F. H. Henry, Christian Countermoves in a Decadent Culture.  We should never forget or overlook Henry.
G. C. Berkouwer, Modern Uncertainty and Christian Faith.  I bought and read this excellent volume on Andrew's recommendation years ago. I continue to acquire books by the great Berkouwer, yet another Dutch theologian.
There's more!  But all this, regarding those early morning seminary classes is enough for now.