It was the late 1970s and I was sitting in one of Professor Henry Wood's history lectures furiously taking notes.  I could have focused on the key history details and only wrote down those matters pertinent to the next test.  But I never could focus just on that.  Without knowing the exact words, I was following the concept of "the student must become like the teacher."  By that, I believed that if a teacher said, recommended it, mentioned, or modeled it, I should follow that lead.
Who Mr. Wood quoted, I don't know.  I only know he said, "Sell your shoes and buy Spurgeon."  This was advice he had received from a preacher or professor along the way, perhaps at Ouachita Baptist College or maybe during his time in seminary.  Or maybe he read it somewhere.  I wasn't at all sure of who this Spurgeon was.  Then as now, selling your own shoes would not get you much money.  (Maybe not buying that extra pair of shoes is a better concept.)
At any rate, I wrote it down.  Books were just beginning to accumulate in my life.  While most of my buys were histories and literary classics, more and more were books on theological and Biblical topics.  I wasn't changing from a history to a theology major, but my mind was undergoing a transformation.  The change was as radical in many ways as my own personal salvation of a few years prior had been.
But who was this Spurgeon and why were his writings so valuable?
We are talking about Charles H. Spurgeon, the great English preacher of the late 19th and early 20th centuries.  Sometimes called "the Prince of Preachers," he spoke without technical amplification to thousands each Sunday.  Hearers had to obtain tickets to hear him preach.  His sermons, lectures, and books were mass produced in his day.  Even in our time, there are an innumerable amount of the writings of Spurgeon ranging from the inexpensive to very expensive works.
First confession, I failed to follow Mr. Wood's advice at that time.  I did buy one small paperback, which was titled John Ploughman's Talks.  The sayings and stories in that and other John Ploughman volumes are quite enjoyable, but that small volume didn't quite convince me of the worth of Spurgeon.
Through the years, I mainly picked up quotes here and there from Spurgeon about faith, prayer, the Bible, and the Christian life.  Moreover, many Calvinist writers quoted really great Spurgeon statements on Calvinism, predestination, election, and salvation.  Spurgeon is so useful for quotes and quips that I even purchased a book of Spurgeon quotes.  Along with that, there are really popular books such as Morning and Evening, which is a devotional book that has been reprinted and revised many times.
Perhaps the most influential book I read about Spurgeon was The Forgotten Spurgeon by Iain Murray.  That book is one of the most important books on church history and theology and ministry ever written.  It was the first of many reads of books by Iain Murray, who combines good story telling in biographies with solid theology and instruction.  You never know in reading Murray if you are gaining more in education or edification.  This may have also been my first time to read a Banner of Truth book, of which many reads and acquisitions have followed.
The book traced several battles that Spurgeon found himself in the front lines of during his life and ministry.  One was over the Doctrines of Grace, a.k.a., Calvinism.  In his early years–and no one has ever surpassed Spurgeon's sermons when he was too young to be preaching!–he preached at a church called New Park Street.  His most doctrinally powerful sermons on grace from what we call a Reformed perspective was preached at New Park Street.  The multi-volume New Park Street Pulpit is one of the best resources around for reading Spurgeon's work.
Calvinism has often come under attack.  Its popularity has often waxed and waned, and Spurgeon was defending what seemed to be a losing cause by defending Calvinism in his time.  He was definitely going against the grain, against the waves, against the trends, against the times, against the prevailing winds, or whatever other metaphor is apt.  He was convinced, however, both of the truth of what he was preaching and teaching and of the ultimate revival of the doctrines he loved.
(Side note:  In the not long past decades, some who found Spurgeon's sermons appealing in many respects were put off by his Calvinism.  Hence they decided to do old Charley a favor and they edited his books, and even changed his words, so as to soften or remove what he actually said.)
Spurgeon also battled for the truth and authority of the Bible during the Down-Grade Controversy.  No, the 1800s were not the "good old days."  The Baptist Union of which Spurgeon was a part voted him down by a large majority because of his views of the Bible.  Even though he had many followers, church members, and students, he was increasingly a forgotten man by the time of his early death in 1892.
Thanks to Iain Murray's work in writing The Forgotten Spurgeon, the only thing that is really questionable about the book is now its title.  Spurgeon is very much remembered, appreciated, loved, and read today.
The most important and influential Spurgeon book for me in recent years is his set of talks titled Lectures to My Students.  This work has been reprinted by several publishers over the years, but the Banner of Truth edition is the most complete and is the nicest in terms of printing and format. I had read from portions of the book through the years, but then finally read it from cover to cover.  It is an incredibly good book for preachers, teachers, students of the Bible, and teachers and students of speech and rhetoric.  Many of the talks in this book were given by Spurgeon on Friday afternoons to the seminary students.  Par for the course and characteristic of the man, the book is full of wit (which transcends the passage of time), insight, convicting exhortations, and practical advice.  It is also a wonderful glimpse into the personality of Sprugeon himself.
I think one of my favorite experiences in reading this book was a chapter where he defended his own style of topical preaching as opposed to expository preaching through a longer text, a chapter, or book of the Bible.  I disagreed with Spurgeon both before and after reading the chapter, but I thought it was a marvelously well done piece of writing.  I heartily recommend the book to all, except preachers.  In their cases, I require the book.
All of this background into Spurgeon the man, Spurgeon the preacher, Spurgeon the hero of so many of us today is to highlight yet another new book on Spurgeon.  This work, titled The Lost Sermons of C. H. Spurgeon: His Earliest Outlines and Sermons between 1851 and 1854 and edited by Christian George, is a very beautiful, hardback volume containing a yet untapped vein of Spurgeon's thought.  From the page on the B & H Academic website, we quote: "Beginning in January 2017, B&H Academic will start releasing a multi-volume set that includes full-color facsimiles, transcriptions, contextual and biographical introductions, and editorial   annotations. "
This means that this is the first of many gems that will further enrich us with Spurgeon's print ministry.  I can hardly wait to start digging into this book.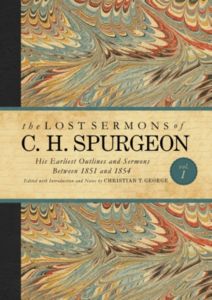 A few additional Spurgeon-related notes:
His auto-biography, published in two volumes, is yet another fine Banner of Truth production.  They are titled The Early Years and The Full Harvest.
There have been quite a few good biographies of Spurgeon.  A really good shorter work is the one done by Arnold Dallimore, titled Spurgeon: A Biography.  You may remember Dallimore for his excellent two volume biography of George Whitefield.
Then there is the rather extensive and more recent biography of Spurgeon done by Tom Nettles, titled Living by Revealed Truth:  The Life and Pastoral Theology of Charles Haddon Spurgeon.
No discussion of Spurgeon would be complete without mentioning his classic Treasury of David set.  These three volumes are "treasured" by all who love good Bible commentary that is solid, exegetical, and very practical.  Often reprinted, this set is a must.
The only other case where Spurgeon wrote a Scripture commentary is the Gospel of Matthew.  His commentary has been reprinted by Banner of Truth. There is also an edition of this commentary that includes some of Spurgeon's letters which was published by The Particular Baptist Press.
While there are numerous collections of Spurgeon sermons, the most complete is the many volumes of the Metropolitan Tabernacle Pulpit.  There are over 60 weighty volumes in this set.  I own one measly volume.  Some years ago, I bought a large number of these from Pastor (and friend) David Richardson, who decided to read Spurgeon via his computer rather than having the set of books.  I then sold them to another friend and book dealer David Leach, who wanted them for himself.  I have felt–since then–like a wayfaring stranger, wandering through this world without these books.
Pilgrim Publications sells the Spurgeon set, as well as many other fine editions of Spurgeon's works.  The Metropolitan Tabernacle Pulpit set they offer has 48 hardbound volumes and goes for a mere $1074 (less than $23 a volume).
Many a good pastor has read Spurgeon sermons for years.  We don't read him so as to preach like him, but we read him so that we can be instructed.
So, younger readers, as well as those my age and beyond, sell your shoes (or skip buying that new pair) and buy the works of Spurgeon.  Let's start with his lost sermons.