Rappell: noun, 1931, "mountaineering technique for descending steep faces," from French rappel, literally "recall" (Old French rapel), from rapeler "to recall, summon." The same word had been borrowed earlier (1848) to mean "a drum roll to summon soldiers."
I am not known for being a risk taker.  In fact, I am very sedentary.  Heights for me pertains to bookshelves.  Adventure usually means drinking a third cup of coffee.  Camping and canoeing were once high on my agenda, but they have been replaced by less challenging events like napping and reclining.
I do most of my risk taking with books.  I really ought to stay on the lower, more level grounds, but I am all to prone to reach out, up, over, and beyond what I am able to take in.  When I can, I understand.  When I cannot understand, I seek to appreciate.  Sometimes, it helps when there are guides and support along the way, but I still stray outside my mental comfort zone.
My recent morning readings have included two really useful books, but two books that are not quick, simple, or easily mastered works.  Reading often is best done when the right book meets the right set up.  For example, many books are great for easy chair reading.  Some are just right to tag along on trips to have handy for short snatches while waiting in line or sitting in a car while the wife runs into the grocery store to pick up a few things (meaning at least one full grocery cart full of stuff).
Other books are just right for reading in bed at night.  Nothing clears my mind of school related problems like a good spy and espionage novel.  Whenever Gabriel Allon or Mitch Rapp plug a few holes in a terrorist who has been threatening Israel or America, I can relax and get ready to sleep.  Many biographies and histories are great for bedtime reading.
Most of my theological reading is done in my comfortable chair where I am flanked by a cup of coffee.  This reading is done in the early morning.  (The amazing thing is that I was a night owl for years and not a morning person.)
But some books require enough mental heavy lifting that a different set up is needed.  In these cases, the book or books need to be spread out on a table with other resources close at hand.  If theology is the topic, a Bible must be there for reference, reinforcement, clarification, proof, or even correction.  The coffee–and the stronger and hotter, the better–still needs to be present.  So does a pen or pencil and some means of making notes.  (If music is desired, it probably should be Bach or Vespers by Rachmaninoff.)
Recently, I began reading two such challenging books in the morning session.  One is Knowing God and Ourselves by David Calhoun.  This book is published by Banner of Truth.
Over the past years, I have read several books by David Calhoun.  His two volume history of Princeton Theological Seminary, also published by Banner of Truth, is a great read on the history of theology in America.  It could have been said, "As Princeton goes, so goes the nation."  The story of Princeton as a theological bastion and then battleground is well told in these two moving volumes.
Calhoun told a similar, but much shorter story in his book Our Southern Zion:  Old Columbia Seminary.
This Banner book recounts the ups and downs of Southern Presbyterianism as found in Columbia.  I did not recognize as many names, but still enjoyed this contribution to our theological heritage.  A book that Calhoun edited and wrote part of is Pleading for a Reformation Vision: The Life and Selected Writings of William Childs Robinson. Robinson was a professor at Columbia and a Reformed scholar and author during the 20th century.
Knowing God and Ourselves is a completely different type of work from the historical and biographical writings of Calhoun. Now a professor emeritus of church history from Covenant Theological Seminary, he continues to write and share his wisdom during his remaining years.  This book grew out of courses he taught on John Calvin and his Institutes of the Christian Religion.
Note that the subtitle of this book is Reading Calvin's Institutes Devotionally.  That in itself contains several key features.  We ought to be reading Calvin's Institutes.  Yes, I am referring to those of us who are often called Calvinists (either as a compliment or an insult–I take the first).  We don't need to read Calvin to shore up our arguments on the 5 Points of Calvinism (which are not easily found in the index or table of contents of his works).  We don't need to read Calvin in order to be a tribe of Calvin-bots who go around citing him like little Chinese kids use to do with the writings of Chairman Mao.
Instead, we need to read Calvin because his Institutes were written to devotionally and intellectually grow God's people.  He intended his work of "concise brevity" to be a handbook to help new, young, eager Christians to get acclimated to the things of God.
"Dry, dusty theology" (a phrase I detest) and Calvin's Institutes have no point of contact.  Nor is his work a field guide for the seminary level graduate student preparing for a lifetime of being a seminary level Christian.  Calvin was writing a book for street Christians, for regular Joe's who sit in the pews, and for struggling pastors who labor over open Bibles.
Right now, I am reading the book from cover to cover.  The chapters and topics are easily read.  The quotes from others are rich.  Each portion begins with a quote from Calvin himself, another quote from a Calvin scholar or student, a specific reading assignment from The Institutes.  And that is followed by a pertinent Scripture text, a defining quote from the reading assignment, and a prayer from one of Calvin's many writings.
Whether it is this coming summer or next fall, I hope to begin my second use of this book.  At that time, I will be at the table with the Bible, pen, paper, and The Institutes.  I will be using yet another great Banner work, the new translation of the 1541 Institutes.
Another challenging book I am currently working through is Reformed Dogmatics: Volume One: Theology Proper by Geerhardus Vos.  This volume, along with the remaining four volumes of the set, was only recently translated and published by Lexham Press.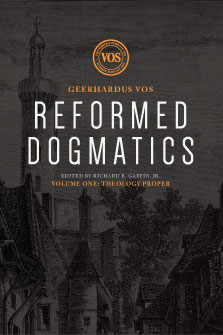 Geerhardus Vos is a big name in the history and pursuit of Reformed theology.  He is Dutch.  For reasons that continue to amaze me, the tiny and largely below sea-level nation known as the Netherlands has produced a larger than expected number major thinkers in this world.  One might throw out names like the philosopher Baruch Spinoza or the physicist Niels Bohr, but most of my interest has been focused on the theological minds that have emerged out of Dutch history.  These "theological thinkers" (which describes a broader swath than just saying "theologians") include historian Groen van Prinsterer, political and theological leader Abraham Kuyper, theologians Herman Bavinck and G. K. Berkouwer, and Christian philosophers Herman Dooyeweerd and D. H. Th. Vollenhoven, and art critic H. R. Rookmaaker.
The flowering of Dutch Calvinism spread to the New World as well.  Bands of Dutch Calvinists came to this country at various times.  Many maintained deep connections to their Dutch culture, language, and religion.  Louis Berkof was a major Dutch theologians whose books are still devoured by eager Calvinists.  So are the works of Cornelius Van Til, the apologist and key promoter of the concept of presuppositionalist apologetics.
Geerhardus Vos was a Dutch transplant to the New World.  He taught for a time at Calvin College and then moved to Princeton.  His is sometimes regarded as the "father of modern Reformed Biblical theology."  Not a light thinker, Vos is not as popularly read as some of his theological peers like Kuyper or colleagues like Benjamin Warfield or Van Til.
Some of the lag time for Dutch theologians is due to their major works being written in their native language.  It has only been in recent years that Herman Bavinck's mutli-volume Reformed Dogmatics has been accessible to English-only/mainly readers.
Now, in addition to a load bearing shelf carrying Bavinck's volumes (and don't forget to add the one volume summary and some more recent additions of essays), one can also have five volumes of Vos' Reformed Dogmatics.
Vos' work grew out of courses he taught on systematic theology.  He follows a method of questions and answers.  The works were probably assigned as readings rather than given as lectures.  The Q and A's format is very precise, careful, and exhaustive.  Each section of Volume One could easily be made into a short handbook on the topic covered.
Volume One's topics are
The Knowability of God
Names, Being, and Attributes of God
The Trinity
Of God's Decrees in General
The Doctrine of Predestination
Creation
Providence
Vos explains the doctrine, lists key Bible verses, and often either buttresses his argument from Calvin or other sources, or answers objections or refutes other views.  One has to be careful in reading the book, for Vos will give a sentence or a viewpoint which he goes on to refute.
This is the kind of hard work that pastors and teachers need.  I hope it doesn't just go on in seminary classes, especially in light of the fact that many of us have never attended such classes.
Being grounded calls for lots of review.  I have been what I am for so many years that I have ceased to think about many doctrines and teachings that I once sweated blood over.  A careful examination of the 40 pages of study of the Trinity is a good exercise for my mind.  But it is also good for the heart (to make that oft used distinction).
Because of the format, Vos' writing has little flow or elaboration.  There are plenty of other places to find such.  This volume is for the slow, detailed climber.
Michael Horton describes these Vos writings as being "like a lost Shakespeare play recently discovered." Well said.