John Piper has often recounted the story of one of his seminary professors advising him to devote his studies to the Bible and one theologian whose thought he would seek to master.  Piper chose Jonathan Edwards.  Other men of God that I know have done similar things. Baptist pastor Fred Zaspel has devoted lots of study to Presbyterian theologian Benjamin B. Warfield and has written two fine books on Warfield.  George Grant has collected and read almost everything written by and about Scottish preacher, author, and theologian Thomas Chalmers.  Douglas Douma, still a young man, is rapidly advancing toward being the key authority on philosopher and theologian Gordon Clark.  Bradford Littlejohn has already produced a number of volumes on the Anglican theologian Richard Hooker.  And Joel Osteen has extensively studied and spoken about the theological insights of Joel Osteen.
I confess that I have been way too much of a gadfly to have mastered any theologian, philosopher, or historian.  I think I have some sort of advanced ADD because my interest and focus will be intense for short bursts of time, and then I am off in a totally different direction.  But I keep trying.  I also think that the advice Piper received was good.  And the choice Piper made–that of studying Edwards–was good as well.
The current popularity of Edwards is an amazing phenomena in our time.  It is the result of the contributions of at least four unlikely team players and a university and quite a few publishing houses.  The four men involved are Perry Miller, Iain Murray, George Marsden, and John Piper.  Miller was a historian and an unbeliever who went against the history department druthers of his day and decided to study Puritans.  He did not agree with Puritan theology or their worldview, but did find them to be worthy of more serious academic consideration.  He single-handedly revived Puritanism as a field of academic pursuit.
Iain Murray shares my characteristic of being widely focused on lots of key figures in church history.  Some years ago, he wrote a laudatory biography of Jonathan Edwards for Banner of Truth. Murray never wrote for scholars, but for thinking Christians.  He did not sugarcoat his subjects and create pious plastic figures, but his biographies were designed to instruct and model Christian living,  sound doctrine, and better preaching and teaching.  His biography won many over to Edwards or put more life into the pictures we had of this man.
George Marsden's later biography of Edwards filled in the gap left by Murray by providing a more scholarly, academic study of Edwards' life.  I don't know of any two other biographies that better complement each other than Murray's and Marden's books on Edwards.  John Piper brought Edwards back into the pulpit and Christian conference.  With a style far from Edwards' reserve and manner, Piper–with passion and emotion–shared Edwards' thoughts, words, and ideas.  The fire that burned in Edwards' life and beliefs might not have appeared so hot and blazing had it not been for Piper.
The university that came to the forefront is Yale which began the vast project of producing modern editions of Edwards' writings.  Yale's Works of Jonathan Edwards number twenty-six printed volumes and many more on-line volumes.  We often use blanket statements to describe modern secular universities and modern scholarship.  Truth is that many great Christian books are published by secular university presses.  Whether those behind the books share the lack of Christian beliefs like Miller or whether they are true believers and scholars is beside the point.  The books are there.
As you can see from this PARTIAL SELECTION from my own collection, I have accumulated quite a few books on Edwards.  If I could start over again, I might choose him as Piper did, but would probably still be a gadfly flitting from Edwards to Kuyper to Warfield to Calvin to more recent writers.  But I do intend to learn more of Edwards.  On one side of eternity or the other, I hope to get a greater vision for the grandeur of God and His saving work.
Here follows a few short comments on the review books I have (and am behind in reading) on Edwards:
Jonathan Edwards: An Introduction to His Thought is by Oliver D. Crisp and Kyle C. Strobel.  It is published by Wm. B. Eerdmans.
One of the essential things about studying Jonathan Edwards is that the vast pool of Edwards' thought and Edwardsian studies consists of a deep end and a even much deeper end.  Edwards was a first rate preacher, but also a top notch theologian and philosopher.  This study is not for the beginner, the novice, or the one who heard of Edwards from a Piper sermon and wants to know more.  This book requires strong black coffee, maybe with a shot of espresso.
Both authors have written other books on Edwards and have interacted with fellow scholars.  This book is on the deeper end of the pool.  In my morning readings, I prefer to start with a very accessible book that is ministering to both heart and mind.  After reading and while starting on the second cup of coffee, I can then trudge through this kind of work.
The opening chapter is on the intellectual context of Edwards.  Studies generally try to figure out where he is in the Reformed and Puritan realm and where he is engaging in more of the then-current Enlightenment thought.  Subsequent chapters deal with "God of Beauty and Glory," "God of Creation," "The Atonement," and then two very inviting chapters titled "Becoming Beautiful" and "Becoming Edwardsean."
Also published by Eerdmans is The Jonathan Edwards Encyclopedia, edited by Harry S. Stout.
This is not a read from beginning to end work, but is a work that can be dipped into randomly or used for specific research.  The list of contributors is a "Who's Who" among contemporary Edwards scholars. That in itself is impressive to me.
Just flipping through the book, I come across articles about Calvinism, economic thought, Jerusha Edwards (Jonathan's daughter), King George's War, Mahican (Stockbridge) Indians, and more.
This book is a goldmine for the history and literature teacher (like myself) who teaches about Edwards and for the preacher and theology students who studies Edwards.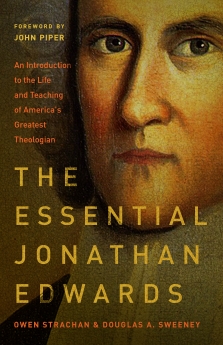 The Essential Jonathan Edwards: An Introduction to the Life and Teaching of America's Greatest Theologian by Owen Strachan and Douglas A. Sweeny.
I think that this introduction book is more geared to the student and pastorally inclined reader than the one above.  Edwards is not a lightweight, but he is worth the effort and a book like this will help the reader get a grasp on his theology.
Since I just got this book and have barely had time to read anything but the preface, I will hold further comments until later.  But the preface by the authors and the foreword by Piper have whetted my appetite.
Always in God's Hands: Day by Day in the Company of Jonathan Edwards by Owen Strachan is published by Tyndale.
Who would have guess a hundred years ago that a day by day devotional reader consisting of Jonathan Edwards' words with a brief commentary and Bible verse would be published?  This book is just right for all of us who want and need to be guided by Edwards, even if it is just being spoon fed in small portions.
I have for years complained about daily devotional books.  Granted there are plenty of sappy, light, fluffy, sugary devotional works that have been filling Christians with an appearance of substance.  But with books like this, even I must admit that the reader of a short devotional can take in some good theology.
Owen Strachan, the author, is the co-author of the book above and one of the contributors to the Encyclopedia.  
Be patient with me, gentle blog readers, for it may be well into the new year before I can come by with having completed or having read extensively in these and a few other books on America's greatest theologian, greatest philosopher, and one of its greatest preachers.