This year I have been teaching a history course on the twentieth century. With a number of historical periods that I have studied, read about, and taught on, the twentieth century is possibly my most frequently studied period.  My class and I spent an inordinately long time studying the Great War (World War I) which, like all historical turning points, extends both back in time and forward in its causes and effects.  We are currently wrapping up a study of the Russian Revolutions.  Next I will be devoting attention to the period between the World Wars, leading up to a month or more of looking at World War II.
The chessboard of twentieth century history includes many key players.  The United States, Great Britain, Russia, Germany, and France are vital to the whole period.  But one cannot overlook Italy, Japan, China, and then some major minor players like Belgium and Serbia in World War I and Poland and Spain (particularly the Spanish Civil War) in World War II.  The post-war period brings in a whole new cast including Greece, Israel, Korea, Yugoslavia, Vietnam, and other countries.
One could make analogies to various chess pieces and the leading countries.  Then there are the pawns whose movements may or may not be significant to the causes of events.  Any chess player (and I am not one) can affirm that pawns can make or break a game of chess.  They can be minor pieces, but their impact can direct the course of events.
This brings me to the topic of the Netherlands and the Dutch people in the twentieth century.  I am not when or if the fine textbook I am using refers to events in the Netherlands after the age of Napoleon.  The Netherlands was neutral during World War I (wise move on their part) and were a quick knock-out in World War II.  The Dutch underground in the Second War gets some attention.  The failed Allied offensive (recounted in the book and move A Bridge Too Far) took place in the Netherlands, but that story is one of the British, American, and German armies.
After World War II, the Netherlands was a NATO member, but has remained on the periphery of historical movements.  One recurring story is of decadence and immortality in that country which seems to be ahead of the rest of the West in moral degeneracy.
The history books and the news accounts often miss or don't know the whole story or even the greater story.  The late 19th and 20th century history of the Netherlands is rich in certain respects.  Unlike my hopeful title, the Dutch have not saved civilization, but they have pointed to and promoted what would be civilization saving in many respects.
There are a number of Dutch Christians who lived in the middle to late 1800's and up through the mid-1900's who have grasped issues even more important than the immediate challenges of ending World War I, defeating Naziism in World War II, or holding on to the Free World against the Communist Bloc in the Cold War.
The names are familiar to those who have waded into the deep currents of Reformed theology and philosophical thought.  Guillaume Groen van Prinsterer, Abraham Kuyper, Herman Bavinck, Herman Dooyeweerd, Geerhardus Vos, Klaas Schilder, Hendrik van Riessen, H. R. Rookmaaker, and Cornelius Van Til are among the key leaders in the intellectual revolution of the past 100 plus years.
I could devote quite a few paragraphs and pages to talking about the various men named above.  I actually have talked and written about most of them.  In fact, I have literally talked from coast to coast about them.  (I spoke at two conferences years ago–one in Virginia and one in Alaska.)  For now, I will focus on two of the many books that are now available highlighting key ideas from the Dutch Calvinist Worldview Thinkers, as I like to call them.
Lectures on Calvinism by Abraham Kuyper is a Christian classic.  It has been reprinted and edited many times since it first emerged from the Stone Lectures that Abraham Kuyper gave at Princeton Theological Seminary in 1898.  One such reprinting and repackaging changed the name to something other than either Lectures on Calvinism or The Stone Lectures.  The goal of all such publications is to get the message of these lectures out.
This book calls for a big dose of humility from all Christians.  Reformed Christians need to realize how limited our vision is when we think of Calvinism as a system of 5 Points or we think that our efforts to promote Christianity are full-orbed.  Non-Calvinists need to realize how, despite whatever struggles they may be having in regard to soteriological (salvation related) issues, the claims of God are over all areas of life.
Many books, movements, schools, colleges, ideas, study centers, and terms have grown out of this book.  Many Christians speak today of having a Christian worldview without knowing that this idea springs from Kuyper.  Kuyper, however, spoke of a World and Life System rather than using the more compact term Worldview.  Every concern that comes up about the Christian role or lack thereof in politics needs to be referenced back to Kuyper's chapter on politics.
He also spoke about science, art, and the future, which can be studied for how Kuyper may or may not have foreseen events.
American Vision has reprinted and edited the edition of the book pictured above.  Some of Kuyper's sentences were a bit long and heavy and many of his references are obscure to most of us.  This book has modified some of the language and punctuation without rewriting or condensing the content.  Also, footnotes explain many of the terms or references that Kuyper and his audience would have been familiar with.
I would include this book for essential reading not just in my top 100 or 50 or 25 reads, but in my top 10 reads.  Furthermore, it is not a read-once-and-shelve book.  This is a book to reread often.  Get it and read it.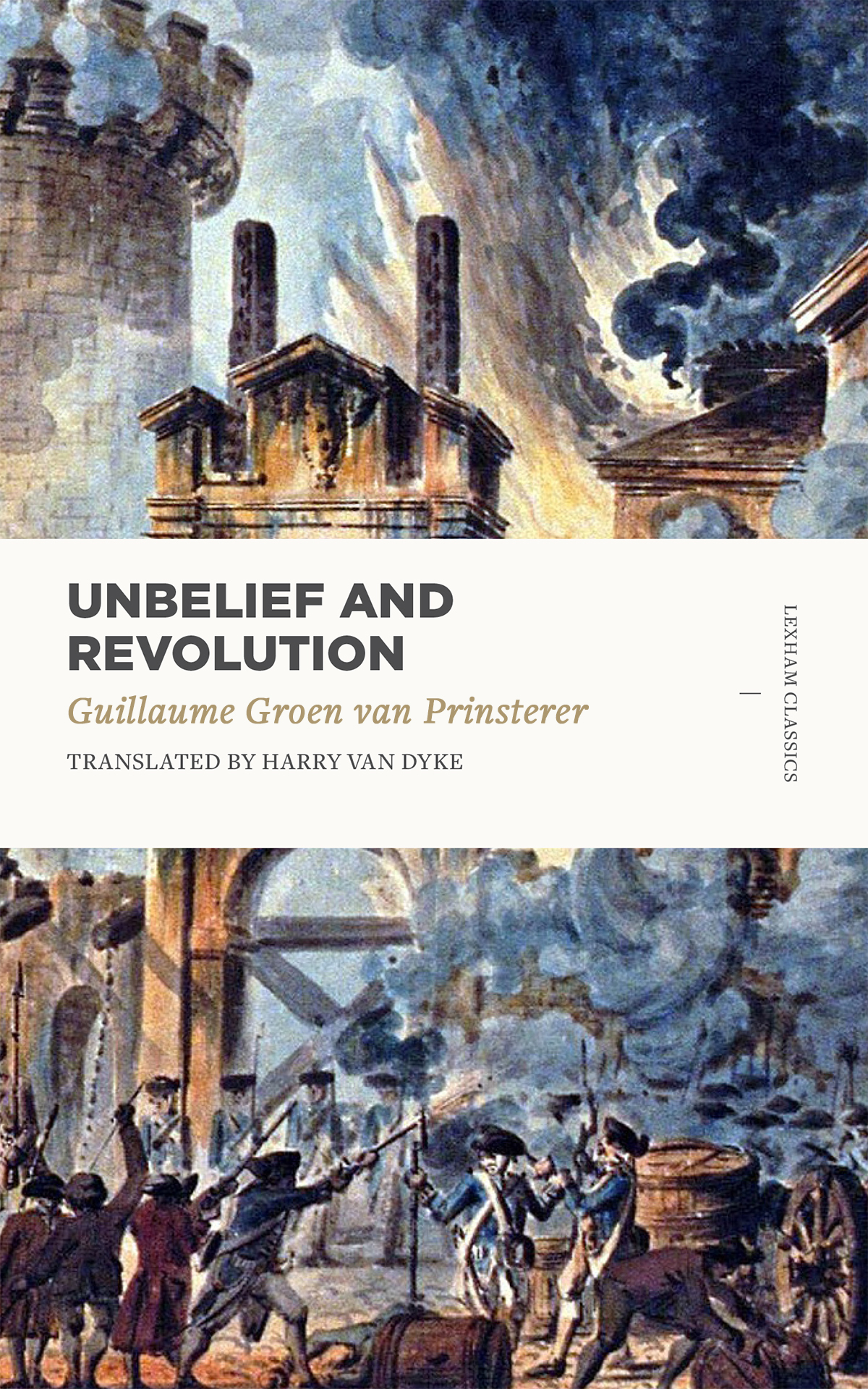 One of Abraham Kuyper's mentors and contemporaries was Guillaume Groen van Prinsterer.  Usually and conveniently, he is referred to as Groen, pronounced to rhyme with prune and equivalent to our word green.  Groen was a brilliant Christian historian and political leader in the Netherlands.  At some point in his career, he gave a series of lectures at his house on the key determining issue of his age.  That issue was the French Revolution.  It was not the details of the storming of the Bastille or execution of Louis XVI and Marie Antoinette that concerned Groen.
Behind the Revolution and preceding from it was a worldview or philosophy.  As has been often, but not often enough, pointed out, the so-called American Revolution and the French Revolution were not twin events.  Their differences are comparable to the knife use of a surgeon and that of a street criminal.  Lest someone think this is a odd-Christian weirdo interpretation, just look at such books as James Billington's Fire in the Minds of Men.  
Before Billington and before all the forces for secularism, humanism, and whatever other objectionable isms of the twentieth century, Groen was discussing the essential beliefs and unbeliefs that propelled Europe into the modern age with revolutions continuing for over a century.
For years this book has been hard to find.  It was translated into English and published by a small Canadian publisher back in the 1980s and 90s.  I doubt that it is on the reading lists of any or certainly not many college courses on the French Revolution, modern thought, revolution in general, or political philosophy.  Groen would not have been shocked or surprised by that omission.
Unbelief and Revolution has been reprinted by Lexham Press.  Along with a number of great books, including Geerhardus Vos's Reformed Dogmatics and many volumes by Abraham Kuyper, Lexham Press is turning into a modern center of Reformed Christian thought and theology.  Harry Van Dyke, a great scholar and acquaintance of mine, translated this book.  Jake Mailhot, who is what I want to be like when I grow up, is a key figure in the distribution of Lexham Press publications.
Get this book.
Read the Dutch Christian authors.  Start with Kuyper and Groen.