There is much to envy about the life of writers.  On the other hand, it is a life of long periods of working alone, and while being alone and being lonely are not exactly the same, they can overlap.  It is a life of much labor and frustration.  The love that the writer pours out onto the page goes for a long time–and maybe forever–without being requited.  For most who write, the trips to the bank are not frequent or overly exciting.  All this is assuming that the writer or would-be writer actually gets a manuscript completed, manages to get it revised, finds some way of getting it published, and then actually sees it get into the hands of willing readers.
Lots of people would like, so they say, to write a book.  Lots of people think they could write a book.  Most don't get books written.  How many of those completed manuscripts should not have been written and should not be published is a different story.  Overall, the "successful" writers' life is a hard life.  Only a very few writers in any field make enough money to live off of writing.  Often even the more successful writers find it necessary to devote lots of time to publicity and book signings and speaking in order to draw attention to their books.
That is the writer's life.  I know a bit about it, having written a book or two and having written lots of articles and book reviews.  I also know something of how difficult it is to get the word out that a book has been written and is in desperate need for buyers and readers.  So, I am highlighting some books by Christian authors I know.  In most of these cases, I these are men that I only know through correspondence and social media.  However, I have discovered so many common bonds that I feel like we could have been life-long personal friends.
The first of the books is War in the Wasteland by Douglas Bond.  Set in World War I, this novel includes some actual people, such as C. S. Lewis.  There are also fictional characters.  I found myself drawn to this book for two reasons.  First, I used Bond's book Hostage Lands in my junior high class. Set in the days when Romans and Celts were battling over lands north and south of Hadrian's Wall, this book is rich in history with a compelling story of faith built in.  It passed the most difficult test: The judgment of junior high students.  After we read the book, one of them asked if we could read more books.
Already being pleased with this Bond book, I wanted to read his book on World War I in conjunction with my teaching on the Great War and my readings of some six or more other books on that war.  Bond's books are perfect for introducing young people to history and reinforcing faith issues.  I confess to being some 20 plus books behind in covering all of Douglas Bond's many works, but this journey to completion is now underway.
George Grant is no novice when it comes to writing books.  I have a whole shelf full of books he has written or compiled, and my collection is incomplete.  But he is so busy with pastoral duties and teaching that he doesn't whip out books as frequently these days.  But it was exciting to see this book arrive in the mail.  An Experiment in Liberty: America's Path to Independence is a great reading resource for studying American history.  I feel myself wanting to use this book next year with my junior high history class.
As expected in a George Grant book, you will discover many gems and witticisms and details about history that are usually obscured.  If someone seeks the more technical, scholarly type of work, look elsewhere.  But if you like the idea of story being an essential component of hi-story, go for this book.  Check and see if free copies are still being sent out.  All you pay is postage.  Here is the website:  https://www.georgegrant.net/?fbclid=IwAR1RCYGADQNyyDrwByQ1Se-tjlTrsrrbaRVXO3YipLSwo-Oinutq1hbQeiw
I have not known Paul Rydecki for long.  I learned about him through a mutual friend, Ryan Brown.  Ryan teaches Latin at Veritas Academy, and he crossed paths with Paul on a trip to Italy.  (There is a Biblical precedent for meeting someone named Paul in route to Rome.)  A month or so ago, Ryan mentioned that his friend from the Italy trip had just published a new edition of one of Luther's works.
Titled Luther's Small Catechism: An Introduction to the Catholic Faith, this beautifully done hardback volume is a great edition to any library.  Granted, I am a Westminster Shorter Catechism man, but I love the Heidelberg Catechism, the New City Catechism, and Luther's Small Catechism.  This is a handy, compact of Christian truths. Besides the catechism, the book has a really useful list of Bible memory passages. And for those of us still getting our minds wrapped around the best of Christian traditions, it has a lectionary for Bible readings throughout the year.
Along with Christian education, a good church, and a solid family, getting grounded in the historic, Biblical, and Reformation-based creeds, confessions,  and catechisms are the most important components for Christian living and discipleship.  So, I urge everyone at whatever age or stage of life to begin reading and learning creeds, confessions, and catechisms.  Go to the historic documents of your own church tradition, but then branch out and little and glean from the breadth of God's field.
Luther's Small Catechism is a fine source for those of us who need to do more than just admiring Luther.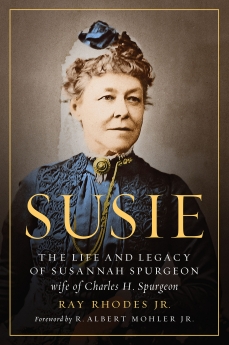 A book on that is on my "Read Next" stack is Susie: The Life and Legacy of Susannah Spurgeon–Wife of Charles H. Spurgeon by Ray Rhodes, Jr.  There are quite a few things that commend this book.  First of all, it is related to the life of Charles H. Spurgeon.  If I had my life to live over, I would have invested time and money in obtaining the sermons and writings of Spurgeon much earlier and with much more diligence.  I am where a person ought to be at age 20 in terms of reading and cherishing Spurgeon.  I will not refrain from encouraging others to read the man himself.  Read Lectures to My Students, An All Round Ministry, John Ploughman's Talks (now reprinted as Spurgeon's Practical Wisdom), Treasury of David, and the many, many collections of his sermons, but especially the series published by Pilgrim Publications.  And read biographies of the man.
That being said, if this woman merely knew Spurgeon, her story would be of interest.  But she was the woman behind the great, but often suffering pastor, preacher, writer, and organizer of many ministries.  Add to that, I have heard so many recommendations of this book.  I will be writing a review just as soon as I finish reading this work.  But don't wait for me!  Get the book.
I reviewed Shortgrass by John J. Dwyer just a few weeks ago.  I am still reeling and swooning over that book.  I can hardly wait until the sequel comes out in May.  This novel is set in Oklahoma in the years of the Great Depression and the Dust Bowl.  War is looming in the near future, in spite of promises to the contrary by President Roosevelt and actions to keep us out of it by Charles Lindberg (both of whom appear in the story).  It was an age where flying was still coming into its own and was filled with thrilling adventure to those willing to learn the skill.  Lance Roark, the hero of the story, is the guy I would want to be.  Don't parade any super-heroes before me, for they fall short of Lance.
This book has so affected me that I may just haul off and buy John's books on Oklahoma history, even though it is illegal to own books about Oklahoma in my state of Arkansas.  (In my home state of Texas, people would wonder why anyone would bother to read about any other of the lesser states.)
A last add-on to the list:
The Resistance by Douglas Bond is his newest work, and my copy just arrived this week. This is a companion volume to War in the Wasteland, and it promises to be another great story set within a historical context.  In this book, the setting is World War II.  Expect more later.  But note this:  Both The Resistance and War in the Wasteland can be purchased together for a mere $25.  If you are homeschooling, use education as the excuse for buying these books.  If you are a Christian, use that as an excuse.  Find some reason and buy these books.
Coming soon:  New books by P. Andrew Sandlin, a reprinted book by David Chilton, more on Dostoevsky and Flannery O'Connor, new and older works on philosophy from a Christian perspective, more books on World War II, and books by historians that I have become acquaintances/friends with.