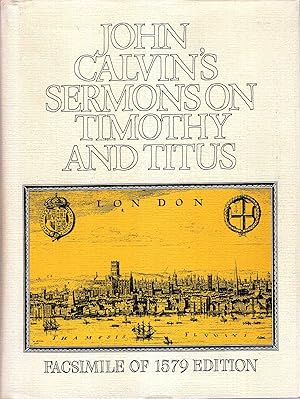 It is a rather funny thing that that such words as "Calvinists," "Calvinism," and the like exist.  I don't think Calvin himself would find it either funny or flattering. He would be most troubled that his attempts to mine the truths of the Bible would be something that resulted in attaching his name to a movement, which is really a number of movements.  But the terms related to Calvin's name are useful as identifiers when used correctly.
What is too easily overlooked is how Calvin the man was so different from those of us who have appropriated the name Calvinists.  Calvin was often more a devotional writer than a scholarly theologian.  He seems to have had one and only one audience:  God's sheep, the congregation.  His preaching schedule was murderous, and his method was expository teaching through the Bible book by book.
Some years ago, Banner of Truth (which is a favorite publisher) reprinted several facsimile editions of Calvin's sermons.  These were English translations from the 1500's and maybe the 1600's.  These were beautiful books–big, well bound, and printed with quality in mind. But for reading purposes, they were less appealing.  The size of the books, the older versions of English print, and the other features expected in a facsimile edition render these books hard to read.  When I preached through 1 Timothy a few years ago, I don't think I even looked at the facsimile that I have.
Now here is the good news:  Calvin still speaks to us today.  His message is still relevant.  And, translations are pouring off the printing presses that are much more manageable, readable, and attainable.  While Banner of Truth is not the only publisher to be mining the riches of Calvin's sermons and books, they books they have made available are outstanding.
Currently, I am reading from Letters of John Calvin.  Banner has a more complete multi-volume edition of Calvin's letters and other writings that is quite attractive. It is called Tracts and Letters of John Calvin.  Many years ago, I picked up a four volume set of Calvin's letters that has been valued, but under-used in my library.  It was published by some scholarly publisher, and I suspect Calvin's correspondence was rare until the recent Banner set.
But most people are not going to casually or devotionally read multiple volumes of Calvin's mail.  This book is just the right size. It is a relatively small book of some 70 letters and less than 300 pages.  The letters are preceded by a biographical sketch of Calvin's life.  Despite having read books and articles by the scores on the life of Calvin, I always enjoy revisiting his story once again.
His correspondence provides an autobiographical look into the man's personality and character.  It is also a testimony to the front line issues of the Reformation and key figures in it.  Because Calvin's intent and life was God-centered, this book is devotional reading and theological study as well.
Robert White is, as far as I know, the best Calvin translator around today.  Several years ago, I received and read from his translation of Calvin's Institutes.  It is a beautiful rendering of Calvin's words.  Most recently, I have acquired Sermons on First Timothy.  It rests on the stack of books I read from in the mornings, and for now, it is part of my Sunday morning reading.  In other words, I am inching my way through this book of sermons.
I would think that the better method would be to read a sermon every day, but time constraints prevent that right now.  But Calvin can be enjoyed in just short and even infrequent doses.  Cotton Mather said that he loved to sweeten his breath with the taste of Calvin before going to bed.  Me, on the other hand–I prefer a dose of Calvin along with strong morning coffee.
Whether read in conjunction with Calvin's commentary on 1 Timothy or read as a resource, this book would be most useful to the pastor or teacher working through the letter.  Also, as a book just for spiritual edification (as though that were a minor component of life), this volume is first rate.
Take note that Banner now has volumes of sermons on 2 Timothy, Titus, Genesis, Job, Jeremiah and Lamentations, Daniel, and perhaps others that I have overlooked. Needless to say, there are far too many good books around than I can wrap my mind, time, or pocketbook around.  Nevertheless, we do what we can.  Inch along the way and get Calvin's books in the new, faithful translations.
Banner Books on Calvin:  HERE.