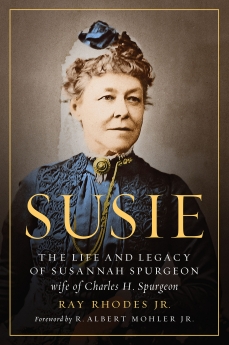 Okay, I must begin again by confessing, "I was wrong."  You would think I am used to this by now, but it is still hard to do.  But let everyone hear me clearly, "I WAS WRONG!"
First of all, I like biographies.  But I want to read about political leaders like Winston Churchill, Theodore Roosevelt, or Ronald Reagan.  I love biographies of military leaders, such as Douglas MacArthur, Robert E. Lee, or Archibald Wavell.  I even read biographies of theologians, philosophers, novelists, and poets.  And I have many books about preachers such as Jonathan Edwards, George Whitefield, and others.
Second, I love the writings of Charles H. Spurgeon.  I first heard of Spurgeon when I was in Henry Wood's history classes in my first year of college.  "Sell your shoes and buy Spurgeon," Mr. Wood said, quoting Helmut Thielike.  I didn't completely embrace that advice.  Yes, I bought a few Spurgeon works here and there, but never enough.  It was only in recent years that I acquired the available in-print editions of the Metropolitan Tabernacle Pulpit.  It was just a few years ago that I read Lectures to My Students from beginning to end.  Perhaps my own ministry work and preaching revealed my Spurgeon-gaps more than I realized.  But I was a fan, a reader, a gleaner of quotes.
All that being said, I was not initially drawn to this book.  There is a slight dread of the religious biography that tends toward hagiography.  There is the slight distaste for the Victorian era style of writing with overblown, overly sentimental, and overly "spiritual" language.  And I am possibly a male chauvinist.  It is stupid if I am such, for my life has been incredibly enriched by wise, godly, strong-minded women.
The first wall of resistance crumbled when George Grant promoted the book back in December in a series of posts recommending books for Christmas. I did succumb to several of George's suggestions, meaning that I bought the books for myself for Christmas. But I did not buy Susie.  And one of my teachers offered to buy me a copy of the book, but I declined that act of generosity.
Then I became friends with Ray Rhodes Jr., the author, on Facebook.  At that point, I was being overwhelmed with reading posts by him and comment from appreciative readers.  I gave in, contacted Moody Press, and received my copy of the book.
Susie:  The Life and Legacy of Susannah Spurgeon, wife of Charles H. Spurgeon, published by Moody, is a very delightful book.  Yes, Charles and Susie used much of the stilted and spiritual Victorian language in communicating to each other.  This tends to obscure some of the real emotions or trials they were facing.  In the case of Susie's physical problems, we are left to speculate what her problem was.  She had a very serious surgery after the birth of twin boys, resulting in no further children for the couple.  So, we don't know exactly what female problem she had, as though my life is somehow incomplete for not knowing this.
We live in a time of bluntness, detail, and, subsequently, crassness.  While I don't think we should revert to saying "She is in a family way, rather than "She is pregnant," I do wish we had a little more circumspectness about language.  The age of the Spurgeon's is a healthy antidote to our age.  Plus, the degree of turning every written communication into a Christian exhortation is woefully deficient.  I confess to being far more prone to ask a fellow church member about work, weather, or widgets than asking him about his prayers.  The point being that the life and times of Charles and Susie Spurgeon are instructive and convicting for us in our times.
Now, here's the scandal buried in the text of this book.  After all, we live in a time of scandals here and there among not only political and entertainment figures, but also church leaders.  Charles and Susie Spurgeon were on the surface fully absorbed in the Christian life and faith.  But in private…they were just as absorbed, if not more so.  Outwardly, they seemed to have a marriage driven by love for Christ and each other.  Inwardly, the same.  Charles was a powerhouse in the pulpit, and he was the same man at home.
Along with their solid Christian lives, take note also of this:  Their lives are a repudiation of the health and wealth gospel heresy of our time.  Financially, they did seem to do well, but considering the fact that Charles pastored a mega-church, they were not rich.  Healthwise, their lives were incredibly difficult.  Besides frequent bouts of depression, Charles suffered gout continually along with other ailments.  His life's work looks to be the product of someone who lived 300 years, but he died at age 57. Susie lived on for more than a decade longer, although she was ill and infirm during that time.
Being married to a woman who has been the wife of a pastor, I know the weight they carry.  Although Scripture gives no commands regarding the duties of pastor's wives, they have many duties, chief among which is being a helpmeet to a man with an impossible job.  Like many spouses of preachers, Susie carried on additional work.  She wrote a number of books herself and worked extensively on her husband's posthumous autobiography.  She helped start a church in a community that did not have a Baptist church.  Most of all, she ran a ministry devoted to sending out books to pastors whose shelves, unlike her own husband's, were devoid of books.
She was, in short, quite an incredible woman.  I found myself inspired, convicted, and amazed constantly while reading this book.  I have no doubt that many women have and will enjoy reading this book, but I would encourage men to read it as well.  There have been too many cases, especially in some Reformed circles, where women and women's ministries have been demeaned, suppressed, and despised.  Susannah Spurgeon was a woman who shouted at the top of her lungs to the church and to the world.  She didn't do so literally, of course.  But through her works, book distributions, prayers, and testimony, her life was a loudspeaker proclaiming the glories of Christ.
Don't hesitate any longer.  Buy and read this book.