Summer mornings are grand.  I love listening to the waves lapping against the shore, watching the sea gulls swoop over the waters, feeling the salty sea breeze against my face, and seeing sun rise as I drink coffee and read.
Okay, none of that describes my mornings except for the last two.  But beaches are overrated, hot, and humid, and sand gets in your coffee and in between the pages of books.  But I do enjoy the extra time that most summer mornings provide for that most delightful of chores:  Reading review books.
I read from a number of different books during the morning.  I will either try to read a whole chapter or I read try to read at least ten pages.  The pattern varies, but that is basically my mode of operation.  I am not recommending it, but it seems to work for me.
I am reading from a new republication of Tozer's work by Moody Publishers.  This nice hardback volume consists of three of Tozer's books:  The Knowledge of the Holy, The Pursuit of God, and God's Pursuit of Man.  Sometimes, I find books that are all combined in one volume are too bulky, but this book has a good feel to it.
I have read A. W. Tozer off and on for years, and I have encountered quotes from him numerous times.  Of late, while reading The Knowledge of the Holy, the first of the three books in this collection, I realized something.  If you are wanting to work through some serious theological issues, like the doctrine of God, don't read Tozer.  If you are wanting some comforting devotional reading, don't read Tozer for that either.
Tozer is theologically challenging and sound in his writing, but he requires the mind to connect to the heart.  He may not be the best beginning person to read to get grounded, but he is solid for reinforcement.  His chapters are quite suited for a short reading time, being that they are ten or fewer pages long.  The prayers at the beginning of each chapter are powerful.  I usually read the prayers twice.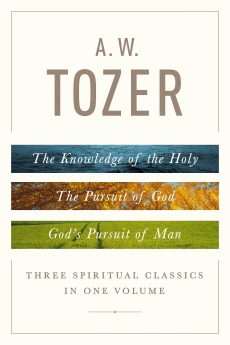 Seasoned Speech: Rhetoric in the Life of the Church by James Beitler III is published by InterVarsity Press.  This book is shaping up to be one of my best reads for the year. The classical Christian school movement has been instrumental in reviving the study of rhetoric.  While that emphasis has often been grounded in the teachings of the ancients, such as Aristotle, (pseudo) Cicero, and Quintillian, this book focused on some recent and Christian writers and thinkers.
The five people whose rhetorical skills are touted in this book are C. S. Lewis, Dorothy Sayers, Dietrich Bonhoeffer, Desmond Tutu, and Marilynne Robinson.  Each chapter (lengthy ones at that) explores the dimensions of a particular author's use of rhetorical conventions.  I am less than halfway through this book and am totally swept away by what I have learned from it.
Political Visions and Illusions: A Survey and Christian Critique of Contemporary Ideologies (Second Edition) by David Koyzis is also published by IVP.
I have been friends (through various media channels) with David Koyzis for many years.  He is a top scholar, dedicated Christian, and a Dooyeweerdian thinker who is readable.  I have read from and used the earlier edition of this book, but am making myself read through the entire second edition.  This is the high diving board of Christian political thought.
I have been long convinced that most Christians know and understand little about politics.  I think they/we are gullible, narrow, and prone to use a few catch-phrases and political words in ways that far exceed good sense.  I often credit the book Master of the Senate by Robert Caro as a political eye-opener for me.  This book is filling the gaps in my understanding.  We are not talking about caulking up a few holes in my thinking, but rather filling in a vast chasm of unclear thinking.
Are you ready for this book?  If you talk in any public forum about politics, you better read it (twice or three times) before you say much.
The Love of Wisdom: A Christian Introduction to Philosophy by Steve B. Cowan and James S. Spiegel is published by B & H Academic.
I learned about this book when I sat in on a philosophy class at John Brown University last fall.  This was the textbook for that class.  I have read through several books that are meant as introductions to philosophy, but most of them focus on the history of philosophy and a discussion of ideas of the main thinkers from Socrates to Derrida.
This book analyzes the different ways that philosophy deals with topics.  Like the book above, this is not the wading pool.  I am trudging slowly through this book and am thankful that I am not being tested over the contents. I would love to sit in on a class where this book is being taught.  This is a solid and challenging work.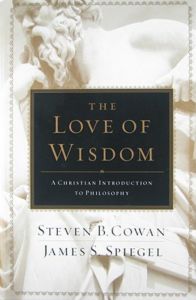 Reason and Worldviews:  Warfield, Kuyper, Van Til, and Plantiga on the Clarity of General Revelation and Function of Apologetics by Owen Anderson is published by Rowman and Littlefield.
This rather short book with a rather long subtitle is still awaiting my official kick off in getting it read.  But I have picked it up and time or two to see what it is in store for me.  A few years ago, I gave a series of lectures on "Calvinist Worldview Thinkers in the Wilderness Years."  I was pretty proud of my accomplishments in studying the Dutch and American thinkers who were Calvinists before Calvinism was cool.  But I was only scratching the surface.
This will be a slow read, and I will be lamenting not being in a classroom listening to Dr. Owen lecture on the issues in this book.  He and I recently became acquainted on social media.  Again and again, I am rejoicing in the caliber of men and women God is raising up in our day to take dominion over the various fields of thought.  Owen Anderson's website can be found HERE.
Some Permanent Things by James Matthew Wilson is a collection of poems and is published by Wiseblood Books.
I read the poems in this book last March and April.  But working through a collection of poetry is not just a matter of starting on page 1 and getting to page 156 in the case of this book.  It is in the slower, more meditative rereading that Wilson's words are breaking in.
Wilson is a Christian, but don't expect nice little poems about God and the Bible and going to church.  He is not a sentimentalist, even though he says so much so well about faith, family, and loves.  I suspect that he is a name to keep an eye on.  This book is a revised second edition for he saw fit to keep working on and molding his poetry more in line with the poetic tradition.
I make the mistake of not reading enough poetry collections, and worse, I make the mistake of only reading poems once.  These poems are worth the time spent and the time spent again.
And summer really hasn't even begun.