You cannot possibly keep up with all of the really fine books that are being written today by serious, capable Christian pastors, teachers, and theologians. I know and experience that frustration constantly.  Besides, theological books are only one component in the vast university of knowledge that many of us need to attend.  Books on history, classics of literature, and political and economic studies abound as well.
The problem gets worse, not better, when we realize that along with the many good books available, there are many older works that simply cannot be neglected.  I don't have a magical formula for solving either yours or my own reading problems.  The best I can do is to simply plug along, reading a half dozen or so books at a time.  In some cases, I am getting 20 pages read a day, but in other cases, I am getting less than half that amount.  Some get started and set aside, and they may not be picked up for a very long time.  Some get lost in the stacks.  Some seem better suited for a different time.
These are the problems that are associated with modern American abundance.  In some places, books are few and far between.  In some places, serious students have to master a second or third language to access the books readily available to us. We here in the English speaking world are inundated with reading material, and that should make us thankful.  Our thanksgiving should also include giving thanks for the availability of three Reformed classics from three different publishers in recent months.
It just makes sense that the new Legacy Edition of J. Gresham Machen's Christianity and Liberalism has been published by Westminster Seminary Press. It was Machen who led the movement that founded Westminster Seminary.  And it was this book, originally published in 1923, that clearly marked the dividing line between the historic and orthodox Christian faith from its deviations of that time.
I first became aware of this book when a college student I knew was reading it for a class by Professor Henry Wood at Texarkana College.  The class was on the second half of American history, so I was puzzled why a "religious book" was being read for the class.  The girl explained that it fit in with what was going on in American history during the time period.  I was pretty sure that I knew a lot about American history, but was clueless about this.
The importance of Machen's book became clear over the next year or so after I took Professor Wood's classes.  I cannot remember when I first read Machen myself, but I am certain that I have read this book a couple of times over the years.  The first thing to be clear on is what the Liberalism is that Machen is contrasting with Christianity.  He was not talking about politics of his time or ours.  He was, at the same time, a man of conservative and slightly libertarian political convictions.  In this book, however, he was dealing with theological liberalism.  The liberals, or higher critics, were embracing modern thought, Darwinian naturalism, and then-current scientific beliefs with reckless abandon.  Their heirs are still among us.
This book laid down the distinction between what Christians have historically believed and what the Liberals were proposing.  Machen's contention was that their beliefs were not simply another brand or way of thinking Christianly, but that they were positing an entirely different religion.
Adding the value of this new edition is a section called "The Legacy of Christianity and Liberalism by the Faculty of Westminster Theological Seminary."  This consists of some 17 short essays on different aspects of Machen's work.  So, don't just rush out and find an older copy of this book or pull your copy off the shelf, get this new work.
Lectures on Calvinism by Abraham Kuyper has also been around in many editions for many years.  This new edition, published by New Liberty Mission and distributed by American Vision, has been modified slightly to improve readability. Don't worry, for this is not a paraphrase or abridgement of the original book.  It is a translation that has some slight changes in punctuation along with some much needed footnotes.  Kuyper gave these lectures in 1898.  He refers to many things in his time that we are not generally aware of.
This book is the foundational read for each and every book that seeks to present a "Christian Worldview."  It is astounding how prevalent that phrase is now.  When I was a young pup, very few people would have used that phrase or known what it meant.  Interestingly, Kuyper actually used a phrase that is translated "Life and World System."
This book stumped me some years ago because I quickly grew used to equating Calvinism with "the Five Points of Calvinism."  I was devouring everything I could find on understanding and defending those Five Points.  But Kuyper's lectures had six points, and there was no TULIP or similarly description of Calvinistic soteriology.
Many, although fewer than in the past, stumble, balk, snort and kick, and object to the word "Calvinism" itself.  When Kuyper gave these lectures at Princeton in 1898, people of varying theological positions knew exactly what he meant by the term and how he was using it.  Especially at Princeton Theological Seminary, the use of the term Calvinism was helpful shorthand for a system of beliefs, more or less articulated by Calvin and his heirs.
In our day, the controversy over the contents of this book revolve around what is called the "Two Kingdoms Theology" and its counter-part, which is often referred to as Kuyperian theology or Augustinian theology.  There are plenty of books to read on this where you can witness the clash of swords as Calvinist battles Calvinist (or Lutheran battles Calvinist).  For a short, sweet deathblow to the Two Kingdoms view, read Brian Mattson's Cultural Amnesia.
I have read and used Kuyper's Lectures on Calvinism many times.  I have several editions of it, as well as Peter Helsam's Creating a Christian Worldview (written about Kuyper's book), Kuyper in America (about Kuyper's experiences while here in the States giving the lectures), and a Dutch edition of the book.
This book is critical to all who are teaching in Christian schools.  This book is valuable to all pastors and teachers in the church.  This book is necessary for us in our times as we struggle to figure out how to have a Christian influence on our culture.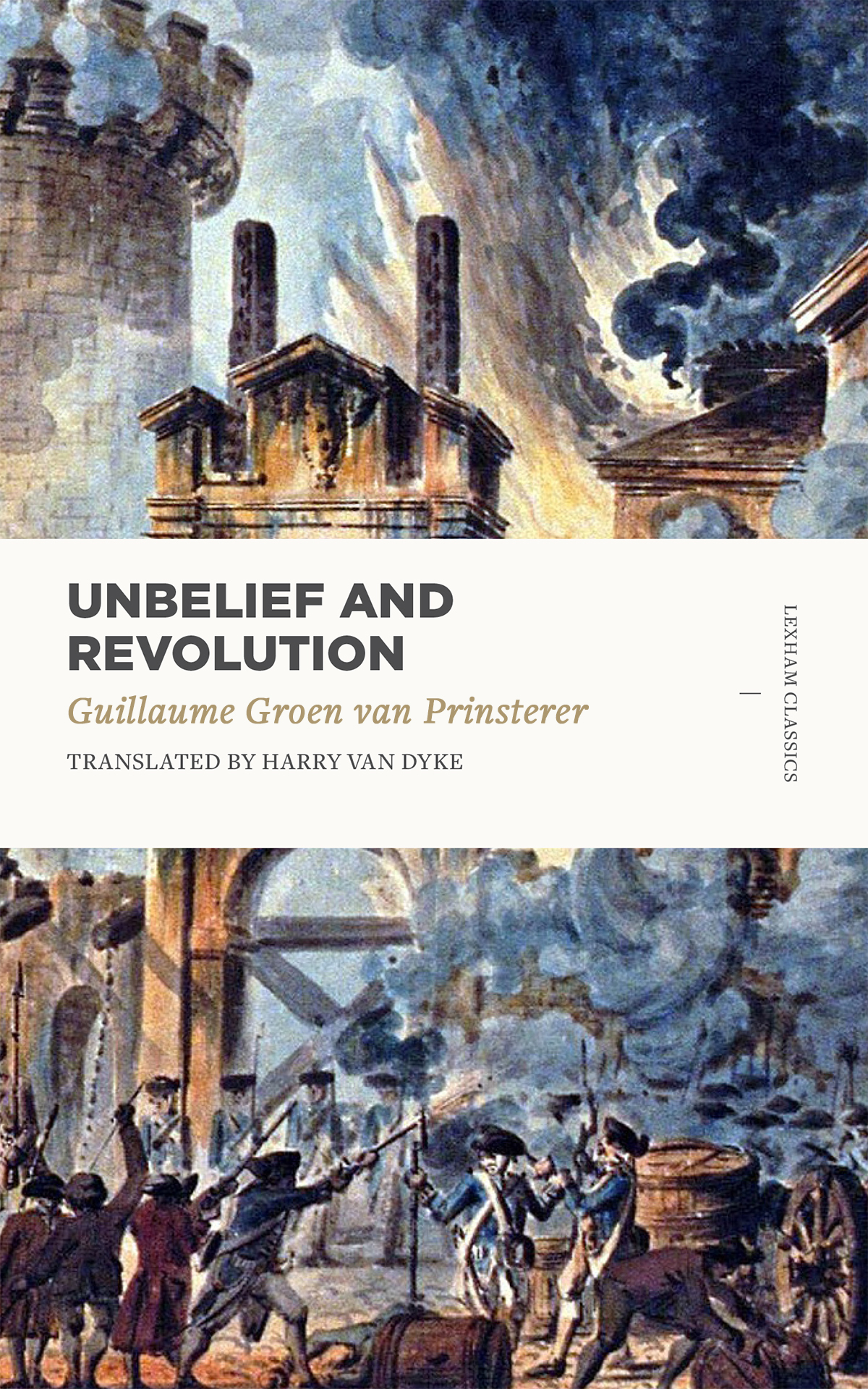 Unbelief and Revolution is by Guillaume Groen van Prinsterer and is translated by Harry Van Dyke.  The book is published by Lexham Classics.
I first encountered Unbelief and Revolution many years ago when there were only two portions of it available in English. Groen (which would translate as Green in English) was largely unknown in America both in the theological and historical worlds.  I suspect that is still the case, although less so and to our shame since his works are much more available in English.
Groen is the Dutch counterpart to Edmund Burke when it comes to the French Revolution.  Meaning, the French Revolution is often heralded as a great event in history, a liberating event, a demolishing of old and antiquated ways, and of establishing a new order.  Sure, there was an excess of beheadings, but as Lenin would later say, "To make an omelet, you must break some eggs."
I realize at this point that this book sounds like a work of specialized interest for students of history.  It is that, but it is more.  Groen was not giving a history of the French Revolution, but was examining its cultural, philosophical, and theological underpinnings.  If nothing else, this work helps teach us to go beyond mastering the facts and trying to discern the foundational beliefs in a movement.  And, this is not a simplistic "Christians didn't pray enough" approach to what was a world-wide revolution.
Translator Harry Van Dyke writes in the Introduction:  "The central message of the book is that the French Revolution is not actually over but lives on in its ideas, and these ideas are dangerous for society.  This book makes a compelling case for challenging the 'permanent revolution' in which Western Civilization has engaged since the 18th Century Enlightenment.  Our culture, according to Groen, is increasingly in the grip of an intellectual and spiritual revolution that has put secular humanism in the saddle and repeatedly wreaks havoc with the created order for humanity and society."
On the cover of the book is a short statement from George Harinck saying, "Very relevant for today."
I would love to take (or teach) a course on the revolutions of the 18th–20th centuries.  I would require that James Billington's Fire in the Minds of Men and Crane Brinton's Anatomy of Revolution be required reading, but first on the list would be Groen van Prinsterer's Unbelief and Revolution.
Get and read these great reprints!