You cannot escape the presence of Thomas Aquinas.  He dominates discussions theological and philosophical.  Besides often being heralded as the theologian among Catholics, there are plenty of Protestants who are admirers and students of Thomistic thinking.  Norman Geisler and R. C. Sproul both professed a great love and appreciation for Aquinas.  Will Durant grumbles about it, but lists Aquinas as one of the top ten thinkers of all time.  Peter Kreeft has taught many to swim in the shallow end of the Summa Theologica by writing a book called The Summa of the Summa and then a shorter one titled A Shorter Summa.
Quite often we learn of Aquinas from the passing references.  In the midst of a chapter on the Middle Ages, or the Church before the Reformation, or in surveys of philosophers and thinkers, Aquinas is neatly summed up in a few sentences or maybe even a paragraph or two.  And quite often the bullet point one line explanation is that Aquinas was a Catholic theologian who took the writings of Aristotle and wove his theology into Aristotle's Greek philosophy.
So, read Aquinas and you get Christianized Aristotle.  Or you get Aristotelean Christianity.  At any rate, the Christian world was left with a muddle until the Protestant Reformers came along and took us back to the roots.
Now, I don't have any quarrel with the Protestant Reformers and certainly rejoice in the truths they quarried from their intense study of the Bible from sources as close to the original as possible.  And I don't doubt that there are aspects of Aquinas that I would disagree with and/or find as less consistent with the Bible.  But we need to beware of the brief explanation of detailed, voluminous, and weighty theologians that are summed up and dismissed in a few sentences.  The summaries may be right or wrong, but for sure, they get repeated over and over again until they are accepted as the official explanation.
At this point in my career, I don't expect that I will ever read deeply into Aquinas.  I do need to read some of his writings, and I do need to read some serious studies about his theology and philosophy.  Summa Theologica is regularly counted as one of the great works of theology.  Some of his other books are often mentioned as well in a number of places.
For these reasons, I am glad to see books like Never Doubt Thomas:  The Catholic Aquinas as Evangelical and Protestant by Francis Beckwith appear.  Never Doubt Thomas is published by Baylor University Press.
Dr. Beckwith is eminently qualified to speak on the topic of Thomas Aquinas.  Growing up Catholic, he became an evangelical.  In some cases, some of his Catholic leaders could not answer his questions, and in some cases, he did not follow what they were suggesting.  His interest in Aquinas was peaked when he discovered that  one of his mentors, Norman Geisler, was an admirer of Aquinas.  Geisler was not alone among Protestant theologians who have high regard for Aquinas.  R. C. Sproul considered Aquinas, along with Augustine, Luther, Calvin, and Edwards, to be a favorite theologian.
In this book, Beckwith grapples with several issues where he thinks that Aquinas' thinking is a needed help for Christians today.  First up is the topic of Natural Law and Natural Theology.  I confess to being a novice here and in many other areas, but I continue to read from theologians, philosophers, and friends who are addressing these matters.  It may seem like a minor matter, but I am convinced that it would not be discussed so often by serious Christians were it peripheral.
The next major issue addressed is "Aquinas as Pluralist: The God of Judaism, Islam, and Christianity."  This was my favorite chapter.  I did, and I think I still do, disagree with Dr. Beckwith and, by extension, Aquinas.  But this chapter was so well written and so helpful that I found myself greatly appreciating it and wondering if I am wrong.  I do think that the question is one that has to be nuanced, expanded, and explained when we discuss it.  And neither Beckwith nor Aquinas is saying that a person is alright being either Jewish, Muslim, or Christian.  That chapter does what good writing and thinking ought to do.  It makes us re-examine our own thoughts and question our own formulations of issues.
Beckwith then addresses some concerns about Intelligent Design.  In short order, issues regarding Creation and how God created and matters relating to evolution and Darwinism are addressed.  Personally, I don't mind the claims of Creationists.  By don't mind, I mean that I find the arguments compelling and compatible with my reading of Scripture.  I know that Creationism is a minority view even within evangelical circles.  People advocating Intelligent Design have been useful allies and incredible scholars, in my opinion.  I have never wanted to fight the public school battles over what is and what is not allowed or advanced in science classrooms.  My view is that teaching Creation or Intelligent Design or exposing students to such views are well and good, but unless the Incarnation is proclaimed, public school education is essentially atheistic or agnostic.
Beckwith, again via Aquinas, unearths some problems with Intelligent Design.  His recurring contention is that Aquinas has some ways of addressing the issue that are more helpful in the debate.
The last chapter really surprised me.  Beckwith grappled with and opposed some of the Protestants who love and use Aquinas.  He believes that the late Dr. Geisler and Dr. Sproul both went a bit too far in making Aquinas a proto-Protestant.  Again, I am sitting on the sidelines watching a debate where I know little about the content and what is being contested.
Sometimes, we read books and come away fully convinced or reassured of what we believe.  That experience is a good one, but not quite adequate.  I don't even know how much I don't know about Thomas Aquinas.  With my studies in history and literature and my advanced age, I will not likely become even a first grader in the school of Thomistic thought.  But I do hope that some of my students will advance beyond me.  I don't want to be the one sentence expert; that is, the person who dismisses a great and profound thinker with a one-liner that is itself inaccurate or misleading.
I will end with a quote from Beckwith and then one from Thomas himself.
Beckwith writes:
"No serious Christian–especially one with philosophical dispositions–can read Aquinas without being impressed by not only his intellect and philosophical acumen, but also his encyclopedic knowledge of Scripture, which permeates every page of his monumental Summa Theologica."
Thomas Aquinas wrote:
"Grant me, O Lord my God, a mind to know you, a heart to seek you, wisdom to find you, conduct to please you, faithful perseverance in waiting for you, and a hope for finally embracing you."  (page 113)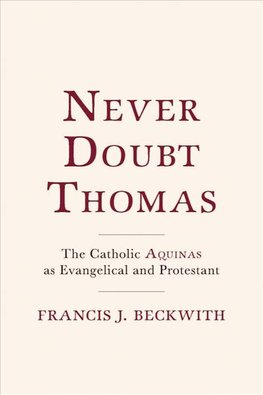 Never Doubt Thomas