A clueless, naïve college freshman walks into a classroom.  The course is Philosophy 101.  The bearded, intimidating professor, decked out with a bow tie, tweed jacket, and an armful of books walks in.  He announces that this is a course on the study of PHILOSOPHY.  As he passes out the syllabi to the students, he goes on about some of the benefits of taking the course. Then comes the clincher:  As he walks back up to the front of the room, his stentorian voice rings out, "Write this on a sheet of paper:  I don't believe in God.  Postdate the paper for May 12, 2020.  For by that date, and by the time you are taking the final in this class, you will not believe in God."
Wow!  How many times have I heard this kind of story? And there is even a movie made about it.  And even Einstein is resurrected with words put into his mouth answering the atheist professor.  And many a scared young Christian has feared either going to college or taking philosophy, and maybe he has been scared about confessing to his parents and pastor that he is studying philosophy. I am sure it actually happened somewhere.  I am sure that there have been professors who maybe had an agenda for discounting belief systems in their students.  I had lots of college profs who seemed to have little regard and even less understanding of Christianity, but if any were trying to dissuade me, I didn't even realize it.  (Most teachers I have ever had have had a genuine appreciation for any serious students.)
To tell the truth, I would actually be more frightened if I were an atheist, agnostic, or skeptic about entering a philosophy class than I am afraid as a Christian about the field, the study, and the teachers of philosophy. If there is one area where Christians today are waging war, one area where we are capturing the high ground, one area where the vast treasures of the past thought are being uncovered in our favor, one area where we are winning, it is philosophy.  CHRISTIANS ARE DOMINATING THE FIELD OF PHILOSOPHY.
Forget end times, tribulation, despair and decline, retreat, and hopes for being raptured as a last effort to save a shrinking band of surviving believers.  Christians are winning cage matches, tag team matches, philosophy-mania, and more. This is not to imply that there are no battles to be fought.  This is not to imply solidarity among Christian philosophers and philosophy teachers.  This is not to imply that philosophy has morphed into a praise and worship team. "In this world, you shall have trouble.  Be of good cheer.  I have overcome the world," said Jesus.  Let's paraphrase, "In the study of philosophy, you shall have trouble.  Be of good cheer.  I have overcome the world."  Not escaped, sidestepped, or retreated from, but overcome. I assure you that if you are a Christian and are wanting to study philosophy, the resources available to you are vast and growing.  And these are not little booklets written by non-philosophy types like me.  (My background studies are in history and literature, and I am, at heart, a junior high and high school teacher.)  We are talking Ph.D., peer reviewed journal contributions, top name colleges, and books as dense or readable as you wish.
There are many fine books on the market aimed at Christian college students introducing the field of philosophy.  Alongside that, there are the secular presses that have hundreds more–new and old–to choose from.  For many, beginning with a book like R. C. Sproul's The Consequence of Ideas is a great foundational work.  For those wanting to see how a writer without Christian presuppositions approaches the topic, there is Richard Tarnas's The Passion of the Western Mind.
Most of the introductory books will be largely a historical survey of the philosophers and ideas that have come and gone through the ages.  Some, in contrast, will focus more on the issues that have engaged philosophers.  Every history and literature teacher, along with every pastor and Bible student, should have a hefty stack of such introductory books.
In this review, I would like to highlight John Frame's We Are All Philosophers:  A Christian Introduction to Seven Fundamental Questions.  This book is published by Lexham Press, a favorite publisher of mine.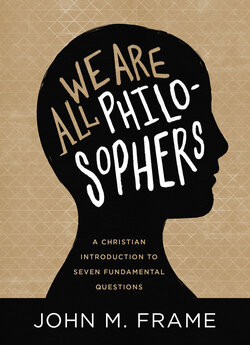 This small hardback book is a great accompaniment to any of the historical survey-type intros to the field.  Frame is a theologian with a solid philosophical background. He studied at Princeton and Yale, as well as studying theology and apologetics at Westminster Theological Seminary.  Frame is a student of Cornelius Van Til and a prolific author on theological topics.  His larger work on philosophy is A History of Western Philosophy and Theology–a magnum opus in the field.
Concerning We Are All Philosophers, here are the seven questions:
What is everything made of?
Do I have free will?
Can I know the world?
Does God exist?
How shall I live?
What are my rights?
How can I be saved?
One might think that these questions are either irrelevant (in regard to what everything is made of) or merely religious (as in regard to questions about God and salvation).  Everyone has to confront what everything is made of.  If we are merely material stuff, then lots of other questions get answered differently than if we are being with material bodies and non-material souls.
The question of God's existence is the one that shows up in the stories and anecdotes concerning the fabled atheist Philosophy 101 profs.  At its heart, the question goes beyond just a Ray Comfort Man-In-The-Street evangelistic interview.  Is belief warranted, rational, and certain, or is it merely hunches and hopes.
The question of rights gets to the heart of many of the political agendas that are being debated in the current election year.
Avoid these seven questions (which I don't think is possible) and you avoid life.  And if you give wrong answers?  Then we go to history class and prepare by taking a major anti-depressant.
Eleonor Stump's book The God of the Bible and the God of the Philosophers is published by Marquette University Press.
Dr. Stump is the Robert J. Henle Professor of Philosophy at Saint Louise University and is recognized as a leading expert on Thomas Aquinas.  This short book is based on lectures she gave at Marquette University.
All through the years, philosophers and theologians have borrowed from each other, but also battled each other.  A theologian poring over the Bible and a philosopher poring over philosophy texts can and have reached different conclusions, given varying explanations, raised different questions and provided contrary answers.
But is that an insurmountable divide?  Are these two fields separated by the guiding presuppositions?  Is the Christian who enters philosophy bound to always be a philosopher who is a Christian rather than a Christian philosopher? This question has been discussed numerous times.  It is a great question with lots of implications for al of life.  Dr. Stump gives some strong reasoning why we should not feel compelled to put our Bibles aside while studying philosophy.
If you took note of the picture posted at the top and bottom of this discussion, you will see several other fine Christian works on philosophy.  The Love of Wisdom: A Christian Introduction to Philosophy by Steven B. Cowan and James Spiegel, published by B & H Publishing Group, is a fine and weighty study on the issues one studies in philosophy.
A History of Western Philosophy: From the Pre-Socratics to Postmodernism by C. Stephen Evans is published by IVP.  It is a survey of the history as the title says of famous philosophers, schools of thought, and major ideas.
Philosophy: A Christian Introduction by James K. Dew, Jr. and Paul M. Gould, published by Baker Academic.  I became aware of this book after reading and loving Dr. Gould's book Cultural Apologetics.
Final comments on the two books by Dr. Frame and Dr. Stump:  Both are small, short, nicely done hardback books.  Great for carrying along on a trip or a meeting where you might just find a few free minutes.  Frame's book is a good "learning to swim" book, while Stump's book is a serious plunge in the deep end of the pool.  Even the most serious students need to get a refresher on the starting fundamentals of philosophy, and even we beginners need to be exposed to some of the depth of the subject.