It is worthwhile during these times to remind ourselves that the cultural and domestic upheavals of our time are primarily theological in nature. This does not simplify the matter to good guys fighting against bad guys, nor does it mean that we can safely assume that we are the Lord's army and those who disagree with us are Satan's minions. Remember that in World War II, Hitler's Third Reich waged war against Stalin's Communist Soviet Union. Both were evil. We and our political opponents may not be on that order of evil, but we should always be asking not whether God is on our side, but whether we are on God's side.
Christians have a long history of bloody street fighting as well as armed clashes of armies in the field. Christians have long said and done ugly, ungodly things. And some of those terrible actions, like the conniving of Joseph's brothers, have brought about good through the providence of God.
Reading the history of the Church and/or particular groups and individuals in the history of the Faith will not yield easy and perfect role models. History does not work like that. The phrase "History repeats itself" is extremely inexact. History provides models, patterns, and examples, but which model, pattern, or example will unveil the future is not the realm of history or the task of historians. Clio did not work on weekends at the Oracle of Delphi.
Nevertheless, history runs a close race with theology as being essential for a Christian's ability to understand the world, the Bible, and the current state of events. This discussion prefaces my review and recommendation of the following book:
Therefore the Truth I Speak: Scottish Theology 1500-1700 by Donald Macleod, published by Mentor, an imprint of Christian Focus Publications.
This book appealed to me (and delivered!) on several grounds. First of all, the topic is one that is of interest, or I should say, two that are of interest. I am a history teacher by profession and a student of theology by interest. This book belongs in both sections of the library. Also, it is tied to the Post-Reformation period where the implications of the Reformation were being felt and applied throughout Europe.
Second, the author himself is commendable. Earlier this year, I read his short book Compel Them to Come In, which is a powerful case for the Free Offer of the Gospel in Calvinistic theology. I was already in the choir when I read this book, but I loudly gave an "AMEN!" to the content.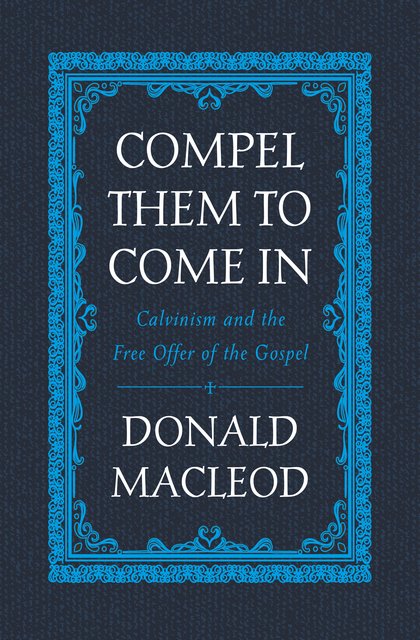 Add to those reasons, Christian Focus Publications is one of the publishing outlets whose every volume I covet. They are solid, practical, and well produced.
Now, on to the book: The Scots battled for "the Crown Rights of Jesus" fiercely for several decades. Scotland was already a political pawn on the European chessboard with ongoing collusion with France and the ever-threatening dominance by the English. The first major figure who emerges onto this battlefield is John Knox, but that does not mean that he was not preceded by others.
Patrick Hamilton and George Wishart preceded him. Both became martyrs to the cause, and both influenced Knox. The life and times of John Knox are adventurous. He lived through more tumultuous events in one lifetime than most people live through in several lifetimes. His life was not one devoted to writing out treatises in the quietness of his study. Compared to the better known of his contemporaries, meaning Luther and Calvin, we have a much shorter body of works. But Knox was a theologian, and this book, while giving some account of his life, delves into that aspect of his legacy.
In the decades following Knox, other great leaders arose in Scotland. Chapters in the book are devoted to Andrew Melville, Robert Bruce, Alexander Henderson, and Samuel Rutherford. These men were all top notch preachers and leaders who continued to fight the battles which were always a combination of church and state issues. What was most central to the task was the culture, as always.
One of the more interesting chapters for us Americans has reference to the impact of Samuel Rutherford's Lex Rex. That work was largely ignored by American theologians and pastors until Francis Schaeffer began calling attention to it back in the late 1970s and early 1980s. In some ways, the fact that Americans were rebelling against the British and that many of the Americans were of Scot descent led people to think that Lex Rex was a direct influence on the events.
Three of the latter chapters dealt with David Dickson and Scottish Federal Theology. I confess to being totally lost on the issues. I suspect people of deeper theological learning would be able to engage in this discussion. That aside, it doesn't detract from what is a fine study.
Final note, I found myself wondering when Thomas Chalmers was going to show up. Then I glanced back at the subtitle and remembered that this book only goes to 1700. That makes me hope that Doctor MacLeod follows up this work with another one that takes the story up through another century or so.
As can be seen, I have a hefty stack of books on the Scottish and English Reformation experiences. I have completed four of the books and hope I can successfully tackle a few more in the coming months. The study is profitable and relevant.
For now, I can highly recommend Therefore the Truth I Speak.