"You have seen a country wagon come into town, with a hound dog under the wagon. It stops on the Square and the folks get out, but that hound never gets very far from that wagon. He might be cajoled or scared out for a short distance, but first thing you know he has scuttled back under the wagon; maybe he growls at you a little. Well, that's me. " William Faulkner
The Life of William Faulkner: The Past is Never Past by Carl Rollyson is published by the University of Virginia Press.
While many readers have struggled, agonized, and even given up when trying to read or understand some of William Faulkner's fiction, perhaps his life itself is the most difficult challenge. On the one hand, the factual account of when and where he was born, lived, and died, who his family members were, and what books he wrote are all pretty easy to figure out. Any encyclopedia for us older readers or Internet search for the rest can yield those details.
This is why biographies are so important, revealing, and enjoyable. Faulkner presents a real challenge both to the reader of his fiction and to his biographer. Authorship of great literature is a process that contains a certain degree of magic or mystery. "How did any person write such things?" we think as we read the great works.
Some have assumed that Homer was not really the blind poet of legend, but was a different poet, perhaps also blind, with perhaps the same name. (I know that sounds crazy.) Maybe The Iliad was actually composed by several authors, some have suggested. Shakespeare presents one of the greatest literary mysteries of all time. How did any one man write the plays? Moreover, how did any one man born in Stratford-on-Avon, who had a good but not spectacular education, and limited travel experiences write such far flung, diverse, and powerful lines with such a vast array of characters?
Greeks spoke of the Muses and Milton called upon the Holy Spirit for illumination, and we all speak of being inspired to write. The bottom line is that great words, worlds, and imaginations flow from the minds and pens of some few very special and gifted people.
William Faulkner was born in Mississippi in 1897. His family had some honored historical people, particularly his great grandfather, Colonel William Clark Falkner. Young Faulkner ( who added the "u" to his last name) was decently well educated and was a sharp kid. The only social advantage he seemed to have was that his family lived in town where his father labored in work that would have been more secure than subsistence farming.
In the early years, the boy Faulkner traveled the country a bit, supposedly in search of education and life experiences. He attended the University of Mississippi where he contributed a few pieces to the college paper, but did not either complete a degree or distinguish himself as a student. He went "off to war" during World War I, but his record was and remains quite sketchy. In that time, airplanes were a real fascination for many, including Faulkner. He went to Canada where he joined the Royal Air Force. He came back home with a uniform that was real and a limp that was an affectation.
He was a goof off at his job as a post master. He gave all appearances of being a ne'er-do-well. He was interested in a few girls, particularly Estelle Oldham, whose family connections were a barrier to Faulkner. From Oxford, Mississippi, he left and spent some time in New Orleans where he developed his writing skills, hobnobbing with Sherwood Anderson–a successful author of the time, and dividing his time between charming people and being drunk.
Truth is, I find the younger Faulkner almost totally unlikeable. I find few redeeming traits in his habits, ambitions, and actions. Had I known him in those years, I would have written him off as a loser. He wasn't winning too many accolades as a promising fellow from his townsmen nor his colleagues. But he kept scribbling away.
During these years, he published several novels that tend to be overlooked and unread in these times. One was titled Soldier's Pay and the other Mosquitos. This was basically the same era in which Faulkner's two contemporaries, F. Scott Fitzgerald and Ernest Hemingway were emerging as the brilliant literary lights of their times.
Reviews for Faulkner's early works were decently commendatory. But he had to return to his native ground of Oxford, Mississippi (both literally and imaginatively) before his literary abilities began blossoming. His third novel was titled Flags in the Dust. It was a story that combined elements of his connection to his locally famous great grandfather and heritage with the experiences and despair of post-World War I America. The book got chopped down by his publisher-editors and was titled Sartoris. I was a freshman in college in 1974 when my English teacher, who was then in love with Faulkner's works, said that the original full novel had finally gotten published.
In the next decade, the 1930s, Faulkner wrote a half dozen of his most enduring novels. These included The Sound and the Fury, Light in August, and Absalom, Absalom. He rose to his heights as an artist, but he was only able to survive by writing short stories that were quick sellers and writing movie scripts for Hollywood.
All of this is covered in great detail in Rollyson's first volume biography. Prior to this biography, a massive two volume work was written on Faulkner by Joseph Blotner. (I learned of this work from my college teacher in 1974 as well. ) A slew of shorter biographies and studies of Faulkner also came out over the years. My favorite one volume study if Jay Parini's book One Matchless Life, and I also love Cleanth Brooks' several volumes of literary studies on Faulkner's works.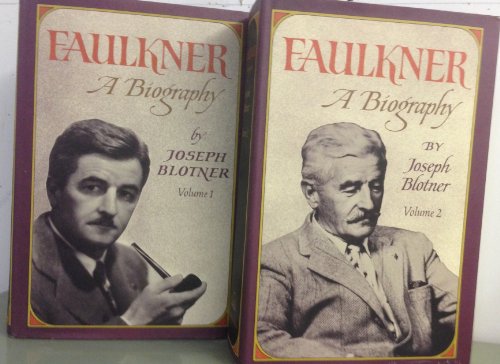 What Rollyson does in great detail is something of a combination of biography and literary examination. In fact, from Faulkner's short pieces and poems in his earliest attempts to his great novels, Rollyson connects the story of Faulkner with the story that Faulkner was writing. This unveils lots of insight into Faulkner's writings. While he was not doing autobiography, his fiction was imitating his life.
Faulkner married his lifelong sweetheart Estelle. One could wish that this small town romance story was a pretty one, but it isn't . Estelle initially married a different man, left Oxford, had two children, and then got divorced. Faulkner, once the not approved beau, took advantage of her return and married her. He truly seemed to be a good step-father to the children, for he was, in spite of all his faults, a gentle and caring man. Faulkner and Estelle were in need of some serious intervention and counseling through the years. Both were severe addicts: William to alcohol and Estelle to alcohol and drugs. Finances were rough as Faulkner was often waiting for story payments or advances in royalties.
Despite having written what are considered several great novels, Faulkner was not writing page turners or thrillers or best sellers. His successes eked out enough money for the Faulkners to slowly renovate a run down piece of property just outside of downtown Oxford. They named the place Rowan Oak.
Rollyson's account of Faulkner is often dark and troubling. His revelations into Faulkner's life, often correcting previous accounts or adding to the known sources of information, are helpful in trying to see what the man was really like, what made him tick (to use an overly ancient cliche}.
The sections that deal with some of Faulkner's movie script writing are really hard to follow because many of us who read Faulkner have not read these accounts. Still, this account does add quite a bit to the possibilities of figuring out the often deceptive, secretive, private, but brilliant life of the future Nobel Prize Winner.
Nope, this is not the book for those who have not read Faulkner's works, nor for those who just want to learn the basics about his life. But for any wanting to travel further into the depths of the wilderness of the man who created Yoknapatawpha County, get this book.
Post Script: Often we have to wait for a long time for the second volume of a work to appear. But in this case, volume two of Rollyson's study of Faulkner is already out. The Life of William Faulkner: The Alarming Paradox, 1935 to 1962 is published by the University of Virginia Press.