What a relief it was on January 1st to rip the 2020 calendar off the wall and start a new year. 31 days later, we are experiencing what we suspected: Some of the troubles are here to stay a while longer. For me, we had the school shut down in March, followed by the quick retraining to doing classes on line. That was part of the nationwide shutdown that brought my kids home from college and kept us home on Sundays. In June, our classical Christian school closed after 22 years. We survived many battles and difficulties, but in June, our re-enrollment plummeted, and my wife and I joined the unemployment lines. For a month or two, I thought I would land another teaching job, but have only ended up with a few part time jobs. Health problems have hit our family, my wife mostly, but I did have one day where I visited the emergency room. A bizarre election season came, but didn't go away. A long time friend and former church member died unexpectedly. Also, the losses of 2020 included singers Charlie Daniels and Charley Pride, pro-wrestler Danny Hodge, and others.
The main recurring thought in 2020 was that God is sovereign and still rules over the affairs of men. Still. Always. Without exception. With wisdom, love, and power. So, when 2021 began with Georgia making poor choices in electing two Senators, with controversies ongoing regarding the slightly odd Presidential election, with sound and fury signifying much going on in the Capitol, with on-going pandemic problems, and with further personal economic difficulties, I resorted to my constant sources of stability: God, family, church, coffee, the dog, and BOOKS.
The new year began with me finishing The Pioneers by James Fenimore Cooper. For years, I have have taught through The Deerslayer to my younger students and The Last of the Mohicans to my high school class. I have won a few readers over to the riches of Cooper, but have not made as many converts as I wished. Even I had failed to read beyond those two books. Last November, I began reading The Pathfinder. I had watched and used a mediocre movie version of that story and may have read the book many years ago. Reading it through was quite enjoyable. Then I hastened on to begin The Pioneers. I began that book around Christmas, which was delightful since the book begins with a Christmas celebration. I struggled to maintain an understanding for the first 5 or 10 chapters, and then the book took off on its own.
The Pioneers is an outstanding fictional examination of several key issues that still affect us today. First, how do we balance the needs of civilization with the preservation of nature? Second, how do we balance the rights of the individual man, primarily the Leatherstocking as Natty Bumpo was called in this book, with the laws of society that encroach upon his rights? Third, how do we maintain our most basic loyalties when they put us in legal jeopardy? Fourth and always within the world of Cooper, how do we deal with the Indians, or Native American tribes, in regard to their original landholdings and culture?
Keep in mind that this is a story and not a philosophical treatise, but it does raise these questions. I am now moving on to the fifth book in the Leatherstocking series–The Prairie.
I was thrilled last year when I first saw that there was a new projected two volume biography of William Faulkner coming out. I hastened to acquire the first volume and then kept it at my bedside stack for months before the right occasion came along to read it. (It was a crazy year.) I thought I would have a long time to wait for the completion of the set, but then I discovered that the second volume was published in the fall, so I got busy and read the book.
Faulkner was a complex writer and man. He was illusive, deceitful, odd, and brilliant. How he emerged out of his background, which was not barren, is a mystery. This biography will not solve the mysteries, but it does connect Faulkner's writings with his life. (I have previously written a review of this book on this blog.)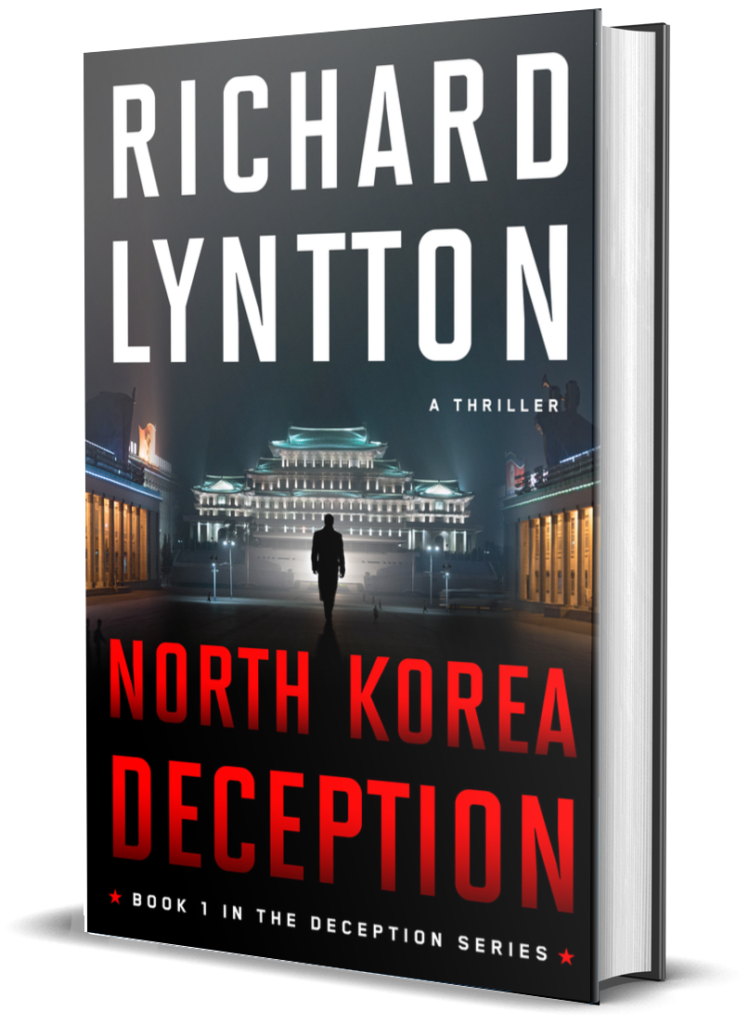 I recently received and read North Korea Deception, which is the first novel of Richard Lyntton. His website can be found HERE. His purpose is to write thriller spy novels in the order of John Le Carre and Daniel Silva. He's British with a impressive military background and work experience as an actor.
This book is the first of three in a series called "The Deception Series." If you start reading it, hold on to your hat because there is non-stop action from beginning to end. Has he reached the level of Le Carre, Silva, Brad Thor, or the late Vince Flynn? Not yet, but he has completed a book and is completing the next two. None of those guys arrived at their destinations on their first tries. So watch this guy and his books if you like the political thrillers genre of books.
Dr. Ed Lengel really irritates me! I first got to know of him and his writings when I read Never in Finer Company: The Men of the Great War's Lost Battalion. Then I discovered that he had written other books on World War I, but also had written several on George Washington. Then this past year, he comes out with a book on two of the smaller, less known battles of the Revolutionary War, and is the editor of a book covering the major battles of that war. See why I am irritated? His works are too many and subjects are wide. (Some attribute my irritation to jealousy.)
I read The Ten Key Campaigns of the American Revolution last fall. This book is published by Regnery Publishing. which is a solid source for history and conservative thought. Due to loss of job, loss of my school office, having to move out of our house for a few months because of a water damage problem, etc., I lost track of The Battles of Connecticut Farms and Springfield, 1780 for a few months. This book is published by Westholme Publishing and is part of a series called Small Battles.
The Ten Campaigns book covered the most familiar events of the war. With different contributors, most of whom have written complete books on aspects of the war, this chronological account shows the struggles, some of which were disasters while others were successful, that led to American independence. But Lengel's book on two small battles deals with events that I have overlooked or forgotten along the way.
Both Connecticut Farms and Springfield took place in New Jersey. Neither battle was decisive, nor largely remembered. But it is a fact of history that sometimes the smaller events can have ramifications that are far in excess of their notice. These battles were proving grounds for Washington's leadership and army as it had reached a peak of relative efficiency. On the other hand, flaws in the British leadership structure and an increasing loss of vision was obvious.
What I would truly love and enjoy would be a course where both of these books were read and discussed. Following the bloody footprints of the American Patriot Army is inspiring to me both as a history student and as a citizen-heir of these soldiers. Seeing how even the smaller skirmishes and battles impacted the whole war is likewise enjoyable. For many of us, Rick Atkinson's projected trilogy on the War for Independence will be defining. I can't wait for the second volume to appear. But those three books are just a drop in the ever increasing larger body of studies of the military aspects of the Revolutionary War.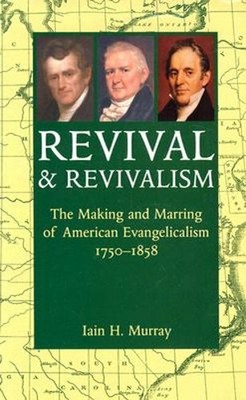 Revival and Revivalism: The Making of American Evangelicalism, 1750–1858 by Iain Murray is published by Banner of Truth.
I feel utterly ashamed for not having read this book many years ago. I am a huge fan of both Mr. Murray's writings and of Banner of Truth. I have had the book for years, but moving books from the office to my home caused me to pick up and read a few volumes that I had unexplainably neglected.
Maybe I hesitated because I already basically knew the story here. That being the case, there was much that I learned for the first time or was reminded of or was able to better understand upon reading this book. This is an important part of American history. For those who want the more academic titles to study this aspect of social and religious history, Murray provides the references. (John B. Boles's books come to mind here.) For those who want a devotional and thoughtful Christian study, this is the book as well. Murray writes Christian history for Christian readers. He exhorts and encourages and rebukes by historical examples. He cites the personal accounts in large selections.
In short, the early day revivals from the time of the Great Awakening and decades following were Calvinistic, evangelistic, and sporadic. For the men of those times believed that revival only comes when God is pleased to send it. The contrasting revivalism, led largely by Charles G. Finney, made such works the efforts of men.
Great study. Read this alongside the more than a dozen other Murray books.
Who Shall Ascend the Mountain of the Lord? A Biblical Theology of the Book of Leviticus by L. Michael Morales is published by Intervarsity Press.
Some months ago, I was reading through the book of Leviticus. I got to thinking about the challenges of a pastor trying to do expository preaching through the book and almost had a panic attack. How does this book, so full of sacrifices and laws and regulations, apply to believers in the pews?
Then I picked up this book and began reading. This is not a chapter by chapter commentary, but it does reference some good ones. Instead, this is a thematic study. I would be sure to read this book at least three times before tackling Leviticus in a sermon series or group study. This book is a straight up climb along the sheer cliffs of Biblical theology, but it is rewarding. I look forward to reading Morales's book on Exodus soon.
Ending the month with reading Leadership in War by Andrew Roberts was quite a joy. This relatively short book consists of discussions about nine leaders–both of nations and armies–who guided their countries through times of war. In several cases, Roberts had already written books on the figures he covered.
They included Napoleon, Wellington, Hitler, Stalin, Churchill, De Gaulle, Marshall, Eisenhower, and Margaret Thatcher. Each chapter is filled with a good description of the leadership styles of this odd array. Some, like Hitler, were disasters (Thanks be to God), while others are worthy of honor and emulation.
One of the main benefits I received from reading this book of mostly familiar material was getting acquainted with Andrew Roberts. I have far too many of his books to have not been a long time reader and fan. Thanks to Tony Williams for inadvertently assigning this book to me.
Now, on to February and another large stack of books!