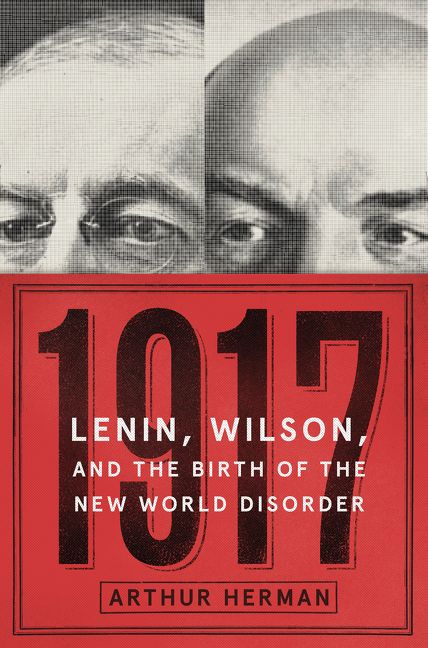 "Emerging from the forge of war in 1917 was the active role of government in every aspect of daily life, and the rising expectation that government can fix every problem and deal with every crisis from economic depression to childcare and climate change." (Page 236)
This past year marked the 100th year anniversary of the Russian Revolutions.  Most of the applauding and celebrating came from those who rejoiced in the fall, rather than the rise of Communist Russia.  The Russian Revolution(s) is a story filled with all manner of drama, tragedy, near fulfillment of hopes, and unexpected turns of events.  It might have been simply a sideshow to World War I, but it became something much bigger, more enduring, and more terrifying.  The death count related to world-wide Communism has been listed as 100 million, and the count is not yet complete.
It is surprising that as 1917 was beginning, Woodrow Wilson and Vladimir Lenin were still sidelined on the cataclysmic war that was engulfing Europe.  By the end of the year, they were the two prime movers and shakers in what was happening. There are, no doubt, plenty of books with plenty of positive things to say about Wilson and Lenin.  By no means are the two men just alike.  Herman notes clear differences as well as gifts and strengths of each man.  But as his subtitle indicates, the results of their tampering with the world, 1919 gave us a world recovering from war and preparing for decades of disorder and preparation for the next war.
The story of Woodrow Wilson is painful.  Brilliant, no doubt, Wilson was insufferable. His idealism was matched by a theological bent that convinced him that he was or his vision was God's plan for the world.  He imbibed much from his upbringing in a Presbyterian manse, but he did not seem to be grounded in sound doctrine.  He did, for better or worse, want to avoid bringing the United States into World War I as a fighting power.  At the same time, he wanted to rise above the powers of Europe and the older ways of war and diplomacy and craft a more perfect world.  The key statement of his vision in found in the Fourteen Points.
Germany, reeling from the war by 1918, called for an armistice, hoping the 14 Points would work to their advantage.  They didn't.  Wilson was as vindictive as he was idealistic.  But all that came out after the firing stopped.  Prior to that, the United States entered a war that it was totally unprepared for in 1917.  A year later, even with troops pouring into France, the U. S. was not producing equipment for its own still fresh men.  As a manager and administrator over a war government, Wilson was a disaster.
Lenin had plenty of problems of his own.  His return to Russia was financed and provided for by the German government.  As a measure to produce chaos behind the lines in the east, it worked better than any could have imagined.  Russia underwent its first revolution and toppled the Tsar in February.  In October, revolutionary actions finished off the provisional government headed by Alexander Kerensky, and moved the soviets into positions of power.
With Leon Trotsky overseeing the military, and a young Stalin perfecting ways of eliminating enemies (broadly defined), a totalitarian state was being put into place.  Everything that would, in time, characterize the Evil Empire (Ronald Reagan's term) was started during this time:  acts of terror against the citizens, arrests right and left,  establishment of the Gulag system, and the implementation of a secret police (forerunner to the KGB).
Russia gave up tremendous concessions and signed the Treaty of Brest-Litovsk.  This freed numbers of German divisions which were raced to the western front in a last attempt to end the war.  It almost worked.  But this part of history is chock-full of "almosts."
Arthur Herman, author of quite a few fine histories, has done a magnificent job in telling a terrible story in a way that is gripping.  Full of insights, a few jabs at recent events, plenty of good narrative, this book will be a hard one to best in this upcoming year of reading.