I am not sure which is worse:  The person who never reads fiction or the person who only reads fiction.  I will, for the present, make a slight distinction between the fictional reads I am recommending below and the books of old that are the affirmed classics in the canon of Great Literature.
While we are all quarantined, or better put, given some extra reading opportunities, I would like to suggest some ten works of fiction.  In true Ben House fashion, I slip in a few extras.  Most of the authors whose books I am touting have written other books I like as well.  Consider it all an endorsement of not just the books below, but the corpus of works of the writers named.  I have mostly confined myself to very current works by living authors.  The one exception is Albert Camus, number 10, who is included for reasons explained below.
These works are what are often seen as middle-brow literature.  I think that means that these books are quite enjoyable and so may not reach the level of the great books of all time.  But they are not passing fancies either.  I have excluded two of my favorite authors, Daniel Silva and C. J. Box.  I have read many books (as in nearly everything written) by them, but their works are more in the spy novel, murder mystery, current best selling fiction niche.  Read them, but recognize that you are better off starting the Gabriel Allon series or the Joe Pickett series from the beginning.  I didn't do that, so it is not necessary, but helpful.
Nor did I include the usual roundup of Christian favorites, which usually means the works of Tolkien and Lewis.  The case has been made for them time and time again.  This is a list of 10 books, not 500, so make your own list if you wish.  Speaking of your own list, I got my idea of this from my friend Andrew Sandlin.  Andrew is a serious theological and cultural scholar, but he enjoys some good reads in fiction.  His listing can be found HERE.  By the way, I have not read a single one of the books on his list, but will take the listing under serious advisement.
Here goes
 Gilead by Marilynne Robinson.  And, the sequels are good as well:  Home and Lila.  I loved this book and the two accompanying books.  Marilynne Robinson should win the Nobel Prize for Literature.  Her overall perspective is built on a Reformed theological perspective.  No, she does not dot every i or cross every t that we truly Reformed would prefer.  Not any fast action here, but deep, meditative, moving soulful narratives.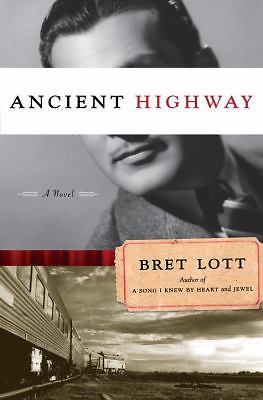 2.  Ancient Highway by Bret Lott.  Mr. Lott is one of the very good novelists of our time who is also a Christian.  This book was my first reading from his works, but since that time I have tried to buy and read everything I can find by him.  I also recommend his books Jewell and A Song I Knew by Heart.  Or if you want a bit of murder and mayhem, then The Hunt Club and Dead Low Tide.  I anxiously await the next Bret Lott novel.  His books on writing are also first rate.  If you want some sweet syrup of Christian devotional fiction, look elsewhere.  If you want a rich, unforgettable story of human struggles with the element of faith, read Lott.
3.  Peace Like a River by Lief Enger.  His most recent book Virgil Wander was also quite good.  In between those two, I read So Brave, Young, and Handsome, which was worthwhile and enjoyable.  I picked up my copy of Peace Like a River in a Goodwill.  I thought it was a western.  One Friday night, I was up late with a toothache, I think.  I started reading this incredible novel that night.  I am certain I raced through it.  Great work by another novelist with a Christian perspective.
4.  Shortgrass and Mustang by John Dwyer were favorite books of mine last year.  I really hope that John can add some more chapters to the story of Lance Roark in a future volume or two.  John, who I can call by his first name since he is a friend, has mostly been working on books on Oklahoma history in recent years.  But he did these two novels also.  I was nearly in tears at the end of the first one, and the second one put me through ever emotion possible.  John's books are forthrightly Christian, but they are not safe reading.  Mustang, after all, is set in the midst of the air war of World War II.  The conflicts of war take place right alongside of the conflicts of faith and life that Lance Roark struggles with.
5.  Fallen Land by Taylor Brown.  I found and gambled a whole buck on buying this unknown novel by an unknown author.  I was drawn to it because it was set in the War Between the States.  This is a really enjoyable and gripping story.  I am looking forward to reading more of Brown's novels.  This is one of a couple of dozen books I have read, ranging from the famous to the obscure, that are set during the War Between the States/Civil War.  Getting dialog and details fashioned so as to be believable is difficult for such books.  This one succeeds and has a gripping story to boot.  I have purchased another book by Taylor Brown, who is way too young, and hope to read more and more of this promising author.
6.  The French Lieutenant's Woman  by  John Fowles.  I picked up a nice copy of this older novel in one of those neighborhood library boxes that was next door to Eudora Welty's house in Jackson, Mississippi.  This book, and number 10, are both older works.  While this story appears to be a late Victorian novel, it is full of curve balls.  Unusual.  Creative. Incredibly funny at moments.  Unstoppable.
7.  War in the Wasteland and Resistance by Douglas Bond.  Douglas is another friend.  He has written a whole shelf of fictional reads featuring famous Christians or Christians in historical settings.  Many of his books are geared more for younger audiences, but are still enjoyable for adults.  I enjoyed teaching and reading his book Hostage Lands, which I used in a junior high geography class.  These two books are set in the World Wars.  Good stories, enjoyable reads.  Douglas doesn't get the reader grimy and soiled by too brutal a display of war or of war-time talk, but he maintains a tone that is clean without being stilted.
8.  Summer of My German Soldier by  Bette Green.  I bought this novel for my daughters, but neither was drawn into reading it.  I was about to give it away, but started reading it instead.  I had watched the movie version of it many years ago.  I think this book might be classified as teen-age fiction, and I would love to use it in either a junior high or high school class.  But it is not juvenile.  The story is immensely moving and well told.  And it takes place here in my state of Arkansas.  This story is built around three displaced people:  A young Jewish girl whose father is neglectful, the African-American maid who proudly defends the girl, and a German POW.
9.  A Gentleman in Moscow by Amor Towles.  Possibly the best novel I have read in years.  His other book, A Matter of Civility, was quite good as well.  Amor Towles is probably the most gifted sentence craftsman I have read in a while.  And the story here is compelling.  This book is rich, very rich.
10.  The Plague by Albert Camus.  My first experience reading Albert Camus was The Stranger.  I found it disturbing.  Since that time, I have read a few other things by and about him.  He was a French existentialist and a Nobel Prize winner.  He received the Nobel Prize at a relatively young age and was killed a few years later.  His writings and musings are often dark and troubling.  But his vision into the abyss of life in this world and the human heart are powerful.  I hope he became a believer, and after reading Camus and the Minister by Howard Mumma, I have some hope for that.  He certainly seemed to be a man in search of something, which we know can only be fulfilled by God.
The inclusion of The Plague is its relevance to our own circumstances.  The book concerns reactions to a plague in a North African town.  Very much a book that deals with psychology and philosophy within the parameters of a well told story.
As stated above, there are always more books to list.  Feel free to add your own suggestions, along with making your own list that is posted on a blog or your Facebook page.  I hope to highlight some books in the near future by other friends.  Remy Wilkins's The Strays must get some attention before he becomes too famous.  Rick Skowronski wrote a fun novel a few years back, and the world awaits the sequel.  Martin Selbrede did the only novel that I know of that combines some unusual ideas of physics with references to Cornelius Van Til.  My own novel awaits revision and publication.