Grace and Glory: Sermons Preached at Princeton Seminary by Geerhardus Vos is published by the Banner of Truth Trust.
A few years ago, I waded out into the ever surprisingly deep waters of Dutch theology and philosophy. We still await a really good book about how the Dutch, while maybe not saving civilization, have highlighted what a saved civilization would believe and think.
Very few colleges offer courses in the Dutch language. It is a minor topic in most historical studies. They did have a lesser role in the establishment of the American colonies. At times, they are noted for weighing in on the bigger events of European history. For example, the Glorious Revolution in Britain came about because the King of the Netherlands, William, was married to the daughter of the English King James II. William and Mary were invited to move back into her parents' home, contingent on kicking dad and his son out, and based in large part on William and Mary being Protestant.
Occasionally, attention is given to some of the greater minds from the Dutch nation, such as Spinoza. But history courses tend to give short shrift to quite a few religious theological and philosophical leaders. But the small, partially below sea level, land of tulips, and windmills is heavily weighted with some of the most brilliant, profound minds of the 19th and 20th centuries.
The most prominent names are Groen Guillame van Prinsterer, Abraham, Kuyper, and Herman Dooyeweerd. Perhaps the most widely read and currently acclaimed theologian/philosopher is Herman Bavinck. But there are quite a few more, some of whom are best known in the land they were transplanted into, meaning the United States. Here one encounters the great systematic theologian Louis Berkof, the apologist Cornelius Van Til, and the subject of this post Geerhardus Vos.
Vos' dates were 1862 to 1949. He was a professor of Biblical theology during most of his years at Princeton Theological Seminary. He was a peer to and friend with Kuyper and Bavinck in the Netherlands. In fact, they tried to persuade him to stay in the old country and teach in a seminary there. But he returned to the United States (the land he had moved to with his family in his 19th year). His colleagues here included the Presbyterian theologians Benjamin Warfield and J. Gresham Machen.
He wasn't just surrounded by theological luminaries: he was one himself. He is often considered to be the father of Biblical theology. While many theological studies focus on systematic theology, the biblical theologian focuses on the development of a doctrine through the course of the Bible itself, without heavy emphasis on previous theologians, church history, creeds, confessions, and the like.
Vos' writings have been in print through the years, but he was not one whose style and content was popular or attractive. He was, as we sometimes hear, a weighty and academically rigorous theologian. Much more popular is his wife's work. The Children's Story Bible, now also published by Banner of Truth.
Several years ago, Lexham Press began publishing Reformed Dogmatics, available in English for the first time. These five volumes made much of the thought and teachings of Vos available for modern readers. Still, this was more theology for the theologians and serious readers. (And that doesn't mean you have to be a seminary student or a college graduate to read them!)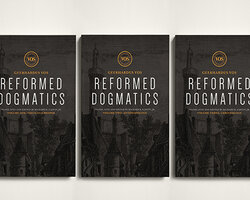 And here, to load the cart a little heavier is a partial bibliography of some of Vos's works. \
The Mosaic Origin of the Pentateuchal Codes. New York: A. C. Armstrong & Son.
——— (1894). The Idea of Biblical Theology as a Science and as a Theological Discipline: The Inauguration Of Rev. Geerhardus Vos, Ph.D., D.D., as Professor Of Biblical Theology. New York: A. D. F. Randolph.
——— (1903). The Teaching of Jesus Concerning the Kingdom of God and the Church. New York: American Tract Society.
——— (1922). Grace and Glory: sermons preached in the chapel of Princeton Theological Seminary. Grand Rapids, MI: Reformed Press.
——— (1926). The Self-Disclosure of Jesus: The Modern Debate about the Messianic Consciousness. New York: George H. Doran Co.
——— (1930). The Pauline Eschatology. Grand Rapids, MI: Baker Book House.
——— (1934). Biblical Theology: Old and New Testaments. Philadelphia, PA: Theological Seminary of the Reformed Episcopal Church.
——— (1944). The Teaching of the Epistle to the Hebrews. Philadelphia, PA: Theological Seminary of the Reformed Episcopal Church.
——— (2001). The Eschatology of the Old Testament Phillipsburg, NJ. P&R Publishing.
——— (1980). Redemptive History and Biblical Interpretation: The Shorter Writings of Geerhardus Vos. Phillipsburg, NJ: P&R Publishing.
What I am not sure of is which of these books are NOT readily available, having been reprinted in more recent years.
But notice that Grace and Glory first appeared in 1922. Bless those at Banner of Truth who find and reset and reprint these treasures. And they have updated and expanded the number of sermons in the book.
Grace and Glory consists of 16 sermons. They are, in several cases, rather lengthy. I say that because I sometimes read a whole sermon during my morning readings, but some were basically divided into two sections.
These sermons are a perfect fit for those who want something with enough devotional/emotional/spiritually motivational impact to set the day on a good course. In other words, you need your heart to sing praises to God.
But these are not snappy, uplifting five minute or less inspirational thoughts. This is heavy theology by a brilliant theological mind. These were sermons being preached to some of the most promising and bright theology students of their times.
If you want some ideas on how to preach this upcoming Sunday, look elsewhere. I cannot imagine being able to preach with this depth and height and magnitude. If you want to be brought to your knees in awe of the God we worship, read these sermons.
Sinclair Ferguson's quote on the back of the dust jacket is worth repeating: "In these pages the reader is invited, almost commanded and certainly demanded, to become a spiritual mountaineer."
So true. Such a good characterization of what is contained in this book. These sermons are well worthy of being read, reread, quoted, meditated on, and shared.
Side note: Banner of Truth also has another Vos book in publication: Biblical Theology. And, of course, I want it.
https://banneroftruth.org/us/store/theology-books/biblical-theology/
Here are a couple of the quotes I shared a few months back when I was reading Grace and Glory:
"Thanks be to God, He is a Saviour who seeks the lost, who with eyes supernaturally far-sighted discerns us a long way off, and draws our interest to Himself by the sweet constraint of His grace, till we are face to face with Him and our soul is saved. "
"The only thing that can give a faint suggestion of the engrossing character of the divine hold upon his people is the first awakening of what we call romantic love in the youthful heart. "
As if it needs to be said at this point: Buy and read Grace and Glory by Geerhardus Vos!