I was saddened when I learned of the death of author Pat Conroy.  That sad event occurred on March 4, 2016,  Mr. Conroy was just past his 70th birthday.  Over the course of his writing life, he authored more than a dozen books, mostly novels.  The University of Georgia Press has produced a collection of short essays praising Conroy's life, friendship, and work.  The contributors are mostly friends and also authors whose writings were inspired and encouraged by Pat Conroy.  Here are the details of the book:  Our Prince of Scribes: Writers Remember Pat Conroy, edited by Nicole Seitz and Jonathan Haupt, published by the University of Georgia Press, hardback, $29.95.
I carried the book along with me on a field trip.  We were sitting in on voice lessons by an outstanding baritone singer and music instructor.  While listening to both the singers and the voice coaching, I began working my way into this collection.  At first, I was reading the book in order, beginning with the first essay.  At some point, I put the book down to listen, then picked it up again, and randomly opened it.  I read the essay I turned to and then turned randomly to yet another selection.  This book is a thoroughly delightful snacking book.  Open it anywhere and you meet a writer (many of whom I have not previously heard of) and you get another fun or interesting glimpse into the life of Mr. Conroy.
At this point in this preview, I will trace my own incomplete journey through the books of Pat Conroy.
My first Conroy book was My Losing Season.  I found a nice copy at the local Goodwill; the book was by an author I had heard of a lot; and it was about basketball.  I read the introduction while sitting in the waiting room to see a doctor.  This was both an enjoyable and frustrating book.  On the one hand, one has to recognize that Conroy was using his artistic license to retell game after game of several seasons of basketball he played at the Citadel.
The coach was brutal, but not nearly as brutal as Conroy's father.  The team was tough and skilled, but never achieved all they could.  Conroy and other players bemoaned their lost opportunities.  As a non-athlete, I was irritated at their forlorn attitudes because their playing experiences were incredible.  Major take-away:  In this book, the reader meets a few recurring Conroy-types.  There is the frustrated athlete, the occasional teacher who pushes literature, the cruel father, and the lost opportunities.  This book was autobiographical, but much that is in it shows up in some form or another in his other books.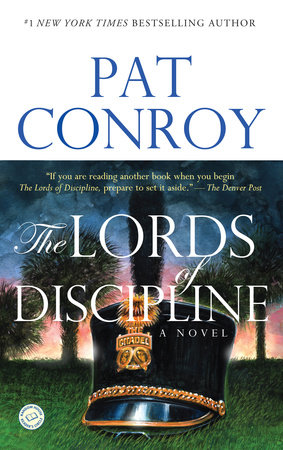 I believe that The Lords of Discipline was my second Conroy read.  This is, in my opinion, the best book he wrote.  It has plenty of autobiographical ties.  It is about a young man's years at the Citadel; the young man plays basketball; the young man has an abusive father.  But there are several developing stories within the greater story.  And there is something rotten in the state of Denmark, or the Citadel, in this case.
This is not a nice clean read.  The characters are mostly testosterone driven, competitive, tough young men.  The hazing system of the Citadel is brutal, as in unbelievably brutal.  Any person, particularly any young man, more particularly any young Christian, who is thinking about going into the military or who is trying to get into one of the military academies, absolutely must read this book.  If hazing, bullying, pain, profanity, lewdness, bad company, temptation, alcohol, etc. as found in this book are too much to handle, go even step into the recruiter's office.
Great story.  Unforgettable.  And it got Conroy in big trouble with the authorities at the Citadel.  For years, he–as a graduate–was persona non grata.  Thankfully, in time they recognized that this graduate was worthy of honoring.
The Water is Wide is a more delightful story based on Conroy's short-lived experience as a teacher in a really disadvantaged school on one of the islands off the South Carolina coast.  Long before I read this book, I had watched the movie version of it and loved it.  (I have also seen the movie versions of Lords of Discipline and The Great Santini.)  This is in the category of uplifting books that teachers like.  Against great odds and with limited resources, the teacher gets put into a classroom where the students are disadvantaged and not expected to improve.  But by pluck, love, and perseverance, the young lives are changed.
I did not care for South of Broad.  As usual with Conroy's writing, the story is engaging, the prose captivating, and the pacing fast.  The plot as it unfolded was very troubling, but, sad to say, very realistic.  In fact, very pertinent to some current news and events.  (I will refrain from details so as not to include spoilers.)
In many ways, The Great Santini is Pat Conroy's signature book.  Of course, the brutal, sadistic, heartless Bull Meecham is the fictional image of Conroy's father.  This book has been described as a love letter of Pat to his father.  Friends, readers, critics, and others have long examined, debated, and been confounded by the complicated relationship between the son Pat and father Donald Conroy.  The publication of this book created a firestorm within Conroy's family.  Oddly enough, in time his father warmed up to his son and reveled in his role in his son's books.  I have heard that Donald would sign copies of the book with words to this effect:  "Donald Conroy upon whom the fictional character of Santini is based."
This book ain't pretty reading.  Hilariously funny, heartbreaking, scary–all of that, but not pretty.  Yet, it is the testament of a man who–despite his viciousness–loved his family.
My Reading Life is a very delightful account of Conroy's reading habits and preferences.  It includes tributes to his mother who fostered his love of reading, as well as discussions of teachers who influenced him.  Whether someone wants to read Conroy's other books or not, this one is well worth reading.  I was thrilled a few years back to discover that my "extra copy" of this book–a like new volume that I paid $2 for–was autographed.
What I don't have or have not read includes Prince of Tides, Beach Music, and The Death of Santini.  Hopefully, really nice, maybe even autographed, copies will show up somewhere along the way.  I might just have to fork out the full amount and buy A Lowcountry Heart: Reflections on a Writing Life.