To paraphrase Charles Dickens, "It was the worst of times; it was the worst of times."  By that I mean that the post- and also pre-World War II era, including the 1960s, was a time of great political and cultural calamities, and it was a time of great spiritual drought and uncertainty.
There was no Internet on which to search for the topic Christian worldview.  Nor was there an Amazon, Goodreads, or Abebooks on which to find needed resources.  The Christian school movement, including the revitalized classical Christian school movement and home schooling, were largely non-existent.  Christians in politics usually meant more liberal people fighting for Civil Rights (somewhat correctly) or more conservative people opposing Civil Rights (wrongly).  Christianity and philosophy were separate subjects who barely acknowledged one another.  Reformed theology was limited to a small number of folks who clung to the Five Points of Calvinism or some traditional Presbyterians who were hold-outs against the theological wars of the 1920s.
Billy Graham represented in both positive and less positive ways the face of evangelicalism.  There was little concern for finding the Christian mind because few thought that it even existed.
And yet, there were and had been a cadre of Christian scholars and thinkers who had swum against the tides.  They circles were small; their followers were few; their books were obscurely published and, in not in English, usually untranslated.  They found themselves rarely noted, reviewed, footnoted, or referenced.  This was what I called in a series of talks some years ago "The Wilderness Years."
The topic mesmerizes me.  I was first reminded of it when James Jordan published an article called "The Closing of the Calvinistic Mind."  Later, P. Andrew Sandlin published a similar article titled "The De-Intellectualization of the Reformed Movement."  For them and for me, the story was powerful because it was autobiographical.  When I rediscovered this topic, somewhere around the year 2005, the age that Jordan and Sandlin wrote about had passed.  For me, it had faded into the back of my mind, but reading about it was like discovering a door leading back into the foundations of my own journey and still incomplete worldview.
As I described the events of the time, an Australian friend described the situation as "A university without a campus."  I thought it an apt and beautiful phrase.
Like all historical recollections, this one is incomplete and not fully nuanced.  But here in this post, I want to call attention to a world of books that were, even in the most intellectually barren and spiritually slim times, "out there."  Some few found them.  They told others.  The books got picked up here and there.  Iron sharpened iron.  The remnant read the books.
One can find many books today that are, in most respects, better written, more applicable, and improved.  But these were the books that showed up in those Wilderness Years.
THE UNIVERSITY WITHOUT A CAMPUS
Books Published by Presbyterian and Reformed Publishing Company
(also called The Craig Press)in the 1950s-1970s
Greg L. Bahnsen, Theonomy in Christian Ethics. 1977
——–Homosexuality: A Biblical View, 1978
Theonomy in Christian Ethics came near the end of the period that I have as my focus.  The picture above is of a much later edition.  In many ways, this book and author were high-jacked.  Dr. Bahnsen wrote a lengthy, detailed study of Biblical law.  It was attached to a movement, alternately called Theonomy or Christian Reconstruction, which made it handy to refute it by attacking some aspects of the movement.  It lessened Bahnsen's standing as a first-rate scholar in apologetics and philosophy, not because of anything wrong with the book, but because it overshadowed the work of the man.
Whether one accepts any or all or none of its content, this was a powerful study that has yet to receive due compensation from Christian thinkers.
Gordon H. Clark. Historiography: Secular and Religious. 1971
——–Karl Barth's Theological Method.
———-Religion, Reason and Revelation. 1961
———-The Philosophy of Science and Belief in God. 1964
———-Three Types of Religious Philosophy. 1973
Gordon Haddon Clark was one of the greatest philosophical thinkers of the 20th century.  Wheaton College committed a kamikaze attack on its own academic standards when it pushed him aside decades ago.  Controversies within Presbyterian circles pitted Clark against Cornelius Van Til, resulting in the small remnant of Calvinist thinkers battling each other rather than confronting the enemies in the opposing trenches.
Much recovery has been done by Douglas Douma's biography of Clark, titled The Presbyterian Philosopher:  The Authorized Biography of Gordon H. Clark. There are probably more serious students of Clark's writings than ever before. R. C. Sproul said that Clark is one of the few Christians of our time who will be read 500 years from now.  Almost all of his books are currently in print from the Trinity Foundation.
Norman De Jong. Christianity and Democracy. 1978
———-Education in the Truth. 1977
While many evangelicals accepted, embraced, and defended public schools, the Dutch in America maintained a suspicion and opposition to Christ-less education.  They were not fighting against integration, the removal of non-descript prayers, or evolution; rather, they embraced a whole philosophy of education.  Norman De Jong wrote several books that provided such foundations.
Herman Dooyeweerd. The Christian Idea of the State. 1968
———-In the Twilight of Western Thought. 1960, 1980
———-A New Critique of Theoretical Thought, 4 Volumes. 1953
One of the greatest names in philosophy in the world today is a name that is ignored still in many philosophy departments both secular and religious.  Herman Dooyeweerd, a Dutchman, wrote extensively on philosophy and culture. Through most of his life, he was little known here in the United States.  Presbyterian and Reformed Publishing picked up some of his books and lectures, or had them translated, for the North American readers.  HD is not an easy read, but he has sparked a number of followers in philosophy, history, and theology.
David Hugh Freeman. A Philosophical Study of Religion. 1964
———-Recent Studies in Philosophy and Religion. 1962
Freeman wrote and contributed to a number of volumes that P & R published.
E. R. Geehan, editor. Jerusalem and Athens: Critical Discussions on the Philosophy and  Apologetics of Cornelius Van Til. 1971
This work, which probably garnered few readers, was an in-depth discussion of Cornelius Van Til's thought as critiqued and defended by friends and foes.
Philip Edgecombe Hughes, Christianity and the Problem of Origins. 1974
Reverend Hughes wrote quite a few fine books, including several Bible commentaries.  He taught at Columbia Theological Seminary due to a grant for a theology professor from a wealthy conservative donor.  A British scholar, Hughes wrote the little noticed short work listed above.  I read it for a Western Civilization class taught by Henry Wood, one of that small remnant who read the Calvinist thinkers back in their day.  That short work was powerful. It needs to be made available again.
Jon R. Kennedy. The Reformation of Journalism: A Christian Approach to Mass  Communication. 1972
Both the book and the author are forgotten.  I read it back in the 1970s because I was taking some journalism classes.
Francis Nigel Lee. A Christian Introduction to the History of Philosophy. 1969, 1978
———-Communism Versus Creation. 1969
———-Communist Eschatology. 1974
———Origin and Destiny of Man. 1974
Francis Nigel Lee was a prolific writer, a scholar who collected Ph. D.'s like other people collect coffee mugs, and an engaging preacher.  He wrote several fine books, but the biggest was Communist Eschatology.  I spent a couple of years searching for this book.  I could remember back when P & R was just about giving it away.  Finally, I contacted Christian cartoonist Vic Lockman, who agreed to sell me his autographed copy.
I had the pleasure of reconnecting Vic and Dr. Lee via emails.  I was saddened when Lee died some years back.
Ronald H. Nash, editor. The Philosophy of Gordon H. Clark. 1968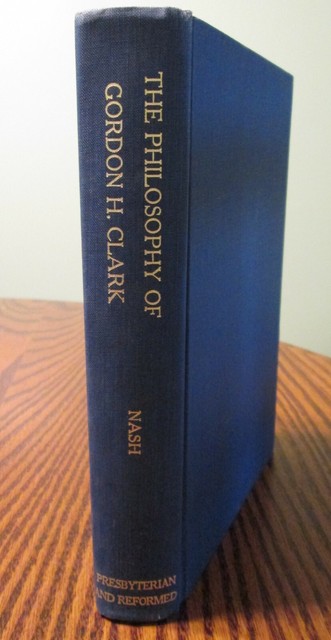 In Hot Spring, Arkansas some years ago, I was searching–I thought in vain–through the most worthless, cluttered, junky used bookstore I have ever been in.  98 percent of the books were trade paperback romance novels and the like.  But somewhere in the high reaches on a shelf, I saw a good hardcover edition of this festschrift to Gordon Clark.  Outstanding book, containing contributions from several of the other authors mentioned in this posting.
Gary North, An Introduction to Christian Economics, 1973
———-Marx's Religion of Revolution: The Doctrine of Creative Destruction. 1968
Although I now have a couple of dozen books by Gary North, I don't think I have ever acquired An Introduction to Christian Economics.  From these two books that North did for P&R, he went on to create his own publishing firms which were putting out his books and those of his followers.  It is easy to find fault with Gary North on some topic or the other, but the man wrote some fine studies and has labored hard for the cause of Christian thought.
Vern S. Poythress. Philosophy, Science, and the Sovereignty of God. 1976
This book has been reprinted, revised, and expanded.  Poythress is among the last of the old-time Calvinist worldview thinkers who has lived on to be in the top cadre of such writers and thinkers.  His books are many.  I know because I keep trying to get all of them.
W. Stanford Reid. Christianity and Scholarship.
I am not sure if I have this book or not.  The topic is one on which dozens of books are being published today, but it was not as common in the past.
Rousas John Rushdoony. Foundations of Social Order. 1968
———-Institutes of Biblical Law. 1973
———-Intellectual Schizophrenia. 1961
———Law and Liberty. 1971
———-The Messianic Character of American History. 1968
———-The Myth of Overpopulation. 1969
———-The Mythology of Science. 1967
———-The Nature of the American System. 1965
———-The One and the Many: Studies in the Philosophy of Order and Ultimacy. 1971
———-Politics of Guilt and Pity. 1970.
———-This Independent Republic. 1964
Pilloried, ignored, discounted, and politely not mentioned, Rousas John Rushdoony was one of the most important thinkers and writers of the 20th century in regard to Christian thought.  Yes, he was wrong sometimes, but try reading Augustine and Calvin for perfect thinking.  RJR was the most widely diffused thinker I have ever been acquainted with.  I met him a few times, corresponded with him a few times, and read and listened to him quite a bit.
The books listed above are, besides being on a variety of topics, brilliant gems.
C. Gregg Singer. From Rationalism to Irrationality: The Decline of the Western Mind From the Renaissance to the Present. 1979
———John Calvin: His Roots and Fruits
———-A Theological Interpretation of American History. 1964
It was Singer, along with Rushdoony, whose books first taught me a critical lesson:   I didn't know how to read serious, analytical material.  And another lesson:  I didn't know how to think Christianly about politics and culture.  Even on points where I disagree with the late Dr. Singer now, I still have to respect what his books taught me.
J. M. Spier. Christianity and Existentialism. 1953
———-An Introduction to Christian Philosophy. 1966
Spier was another Dutchman, I think, who helped pave the way for English speaking people to read and understand Dooyeweerd.
Hebden Taylor. The Christian Philosophy of Law, Politics and the State. 1966
———-Economics, Money, and Banking , 1978
———-Evolution and the Reformation of Biology. 1967
———-Reformation or Revolution. 1970
E. L. Hebden Taylor was a British Anglican theologian and writer.  His books are all out of print and hard to find.  One of my copies came to me from New Zealand.  A dear couple, the young man now deceased, gave me copies of The Christian Philosophy of Law, Politics, and the State and Reformation or Revolution.  Taylor was a strong disciple of Herman Dooyeweerd.
H. Van Reissen, The Society of the Future. 1952
Van Reissen was a Dutchman, part of the cast of thinkers in the Free University of Amsterdam orbit, and a profound Christian scholar.
Cornelius Van Til. The Case for Calvinism. 1964
———-Christian Theistic Ethics. 1971
———-A Christian Theory of Knowledge. 1969
———-Christianity and Barthianism. 1962
———Christianity and Idealism. 1955
———Christianity and Modern Theology. 1955
——–Common Grace, 1947
———-The Defense of the Faith. 1955
———-An Introduction to Systematic Theology. 1966
———The Intellectual Challenge of the Gospel. 1953
Cornelius Van Til was one of the greatest apologists of his and our time.  There are plenty of critics around.  I cannot completely land myself within his complete system, but I have gained so much from my limited studies of the man and his labors.
In the late 1990s, P&R would publish two major studies of Cornelius Van Til.  One was by Greg Bahnsen and the other by John Frame.
William Young. Foundations of Theory
———-Hegel's Dialectic Method: Its Origins and Religious Significance. 1972
Young was a translator of Dooyeweerd's New Critique , and he authored a couple of philosophical studies.  A few years back, another company published a collection of his writings which range from philosophy to theology.
Modern Thinkers Series, edited by David H. Freeman
Nietzsche by H. Van Reissen
Kierkegaard by S. U. Zuidema
Dewey by Gordon H. Clark
Bultmann by Herman Ridderbos
Sartre by S. U. Zuidema
Van Til by Rousas J. Rushdoony
Niebuhr by G. Brillenburg Wurth
Barth by A. D. R. Polman
Tillich by David H. Freeman
James by Gordon H. Clark
Freud by Rousas J. Rushdoony
Toynbee by C. Gregg Singer
This set of books was outstanding in its day.  I have several of them and wish I had them all.  P&R has somewhat revived the tradition with its Great Thinkers Series.
Books Published by Baker Book House
Abraham Kuyper, Lectures on Calvinism.
H. Henry Meeter, Basic Ideas of Calvinism. 1939
Henry R. Van Til, The Calvinistic Concept of Culture. 1959
Baker Book House often worked in tandem with Presbyterian and Reformed Publishing.  These three books are all classics in the field.  I think that they may all still be available.
Books Published by William B. Eerdmans
Gordon H. Clark, A Christian Philosophy of Education. 1946
———-A Christian View of Men and Things. 1952
Herman Dooyeweerd, Transcendental Problems of Philosophical Thought. 1948.
J. Gresham Machen, Christianity and Liberalism. 1923
Four books among many that William B. Eerdmans published that were influential in Calvinistic Worldview Thinking.
Books Published by Ross House Books
Gary North, editor, Foundations of Christian Scholarship: Essays in the Van Til Perspective. 1979
Ross House became the publishing firm for R. J. Rushdoony's books.  They are still pouring out old and newly published volumes of his work.  This work was an early publication that has some really tough essays on Christian thought.  It is worth searching for and buying.
Time  fails me from being able to scope out and discuss, even briefly, many of the other works of the Wilderness Years.  Besides the men mentioned above, others like George Grant, John Frame, Joseph Morecraft, Gary DeMar, David Chilton, Calvin Seerveld, H. Evan Runner, Arthur Holmes,  Carl F. H. Henry,  and many more were writing, teaching, preaching, and laying the foundations for Christian thinking from solidly Reformed positions.
Also, much more could be said about the formative roles of James Orr, a Scotsman, and those incredible Dutchmen–Groen van Prinsterer, Abraham Kuyper, and Herman Bavinck.