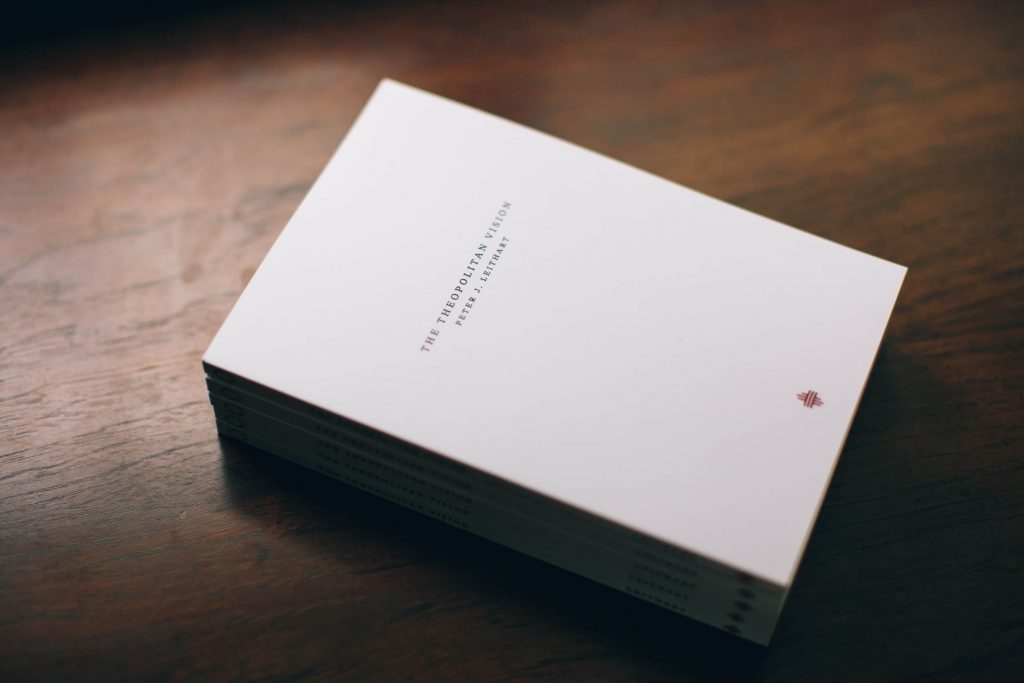 The Theopolitan Vision by Peter J. Leithart is published by Theopolis Books, an imprint of Athanasius Press.
Dr. Leithart is the President of the Theopolis Institute, which is a study center for "Biblical, Liturgical, and Cultural Studies."  He has authored an incredibly large of books on Biblical, theological, and literary topics.  I have and have read a number of his books, but I way behind on having everything he has published.  His productivity simply astounds me.
On the one hand, doing a promotional review of a Peter Leithart book is both certain to succeed and to fail.  Leithart, as well as his friend and mentor James B. Jordan, have lots of fans, followers, and students who would buy print copies of their grocery lists if such were available.  I understand, for I am that way about certain authors.  On the other hand, there are those who immediately link Leithart with various positions he espouses or with people he is associated with and would flee from any suggestion of reading his books.  I am not able to address either group, and that first one probably has already devoured this book.
I am not equipped to be contentious or even capable of deep critical thought.  When my wife and I go to a concert and listen to skilled musicians, we talk about them on the way home.  I am usually saying things like, "They are really good."  My wife, on the other hand, is saying things about the technique,  interpretation, dynamics, and execution of the music.  I nod and assume she is right and try to figure out if she also thinks they are really good.
There are many theologians, philosophers, political and social commentators, literary critics, and historians that I learn from without being able to plunge to the depths or climb to the heights of their thought.  Nor do I reject them because of a point of contention here or a quibble there.  I write this post, therefore, to ask readers to glean the pages of The Theopolitan Vision.  If you want to know which sentence caused me to cringe or which paragraph put a grumpy face on me, message me.  Overall, the book was encouraging, enlightening, and much needed among God's people.
Many years ago, I was reading heavily from books emerging from the various corners of the Christian Reconstruction (Theonomic) movement.  For a time, the centers of these productions were coming forth from Chalcedon in California, from Tyler, Texas (for a short season), and from American Vision in Georgia.  In spite of the many good and serious works these Recons were writing, there was an ongoing criticism.  It was that their books, and especially those of Dr. Rushdoony in California, were weak on the local church.
Maybe they were, or maybe they were just focused on some overlooked areas of Christian cultural engagement.  A movement will tend to morph in several directions.  There are always those who try to maintain the original ideas and concepts, and then there are those who push the boundaries and maybe even redefine them. us
I don't know the exact role of Peter Leithart from those Recon days.  There are quite a few Christians who found the Recon movement helpful without embracing it.  I think that defines me, and I think it defines such people as Leithart, George Grant, Andrew Sandlin, John Frame, John Barach, Mickey Schneider, and others.  In the second tier of Reconstruction authors was James B. Jordan.  For a season or two, he worked for Chalcedon, and then he departed. (Departed being a nice way of saying that he was fired.)  Dr. Jordan, an acquaintance of mine, greatly influenced Leithart.
Within the ranks of those who might have been immersed in Reconstruction thought in the 1980s, we now find many who now have a heavy emphasis on the local church, church life, and liturgy.  In our day, we find a wild enthusiasm for many elements of Reformed theology that is often joined with many contemporary, popular, and crowd-centered ideas about the Sunday worship service.  It is not all bad, but it is not all good either.  I pastored for several years in a Presbyterian church with a very traditional service, and after I stepped down as pastor, I was still in charge of the worship service.  I thought the order of service to be quite good, Biblically rich, and fulfilling.  Nevertheless, for a host of reasons, the church faltered, failed, and then closed.  I still love the liturgical practices of those days.
The Theopolitan Vision is not a manual for worship services.  Leithart would direct you to Jeffrey Meyers's useful book The Lord's Service for that (and I found Meyers's helpful but not convincing). I would direct you to John Frame's Worship in Spirit and Truth.  Instead, this book, as the title indicates is a vision of what church life should be.  Leithart directs a large part of the book to the role of the pastor, who is to be the prime (or maybe sole) worship leader.  He also presses upon the people in the pews how they are to worship and participate.
We can, so easily, minimize that hour or so we spend worshipping.  We can, while worshipping, find ourselves so distracted, so lulled by the repetition from week to week, and dulled by our own lethargy that we miss what a powerful impact worship has.  Every area of life and thought is to be brought under the dominion of Christ, but central to all that is church life and worship.
Leithart explains the vision as follows: "So the Theopolitan vision isn't a vision of pastoral ministry alone.  It's a vision of the church in the world and of the church's mission in and to the world. It's a vision of the church, the whole church, as God's heavenly city on earth."
There is nothing wrong with the sentiment of the song that says, "When we all get to heaven, what a day of rejoicing that will be," but if we are not experiencing something really, really close to that in worship, then "Houston, we have a problem."
Of course, it is easy to read a book with some attainable, but rare ideals of church life and find yourself nit-picking the problems in your own congregation. (Avoiding in the process your own eye logging industry.)  Whether pastor or pew sitter, you will find your own church service, congregation, and church life wanting.  Leithart says that if you find your own church indifferent or hostile, pack up and leave immediately and find the ideal church.  No!  He does not say that.  Instead, he says, "If the church is faithful to the gospel, start by giving thanks for the congregation, pastor, and church….Thank God for their faithfulness, for their ministries and evangelism, for the truth that is communicated." Amen!
I would love to see Christians reading this book who are not in sync with Leithart's doctrines and practices.  I would love to see Baptist, non-denominational, charismatic, and people-friendly pastors and others gleaning from this book.  Many would read it and conclude, "Here is how we are going to do what he says." That response, I think, would be quite joyous to me, and I think Peter Leithart would like it as well.