Ambulance Drivers: Hemingway, Dos Passos, and a Friendship Made and Lost in War by James McGrath Morris
Here is a good example of why I don't post the best books of the year in December:  This was one of the last books I read this year.  Outstanding account of two 20th Century American writers.  They met during World War I when both were serving as ambulance drivers.  For several years, Dos Passos was the successful and published writer who was helping out a young Hemingway.
Over the years, their friendship ripened, and both men published a number of books.  Hemingway surged in fame and fortune.  Dos Passos received the accolades of the literary establishment, but little by way of book royalties.  Hemingway, being generous as he often was, gave and loaned money to his friend who also married one of Hemingway's life-long friends, Katy Smith.
Hemingway being Hemingway, he came to the point where he despised and slashed at his literary companion.  He could not stand the fact that Dos Passos got more appreciation from the very crowds that Hemingway hated–literary reviewers.  Like most things that EH touched, this friendship turned ugly before he killed himself.
I really wish this book had added another fifty or more pages detailing Dos Passos's turn from the Leftist thinking to Conservatism.  The Spanish Civil War opened his eyes, even as it blinded Hemingway's vision.  I love much about Hemingway, but he was vicious, nasty, cruel, self-centered, and more.  I lament not having read enough by and about John Dos Passos, his peer who is rarely regarded in these times but who was often viewed as EH's superior in their times.
Hitler and the Habsburgs: The Fuhrer's Vendetta Against the Austrian Royals by James Longo
I mentioned having seen this book at Books-A-Million one day while teaching Humanities.  Later that same day, Joshua Carnes showed up in my classroom and handed the book to me.
What an outstanding book!  The Habsburgs are rarely regarded or thought of.  Francis Ferdinand is usually relegated to the brief discussion of the immediate outbreak of World War I.  I never knew that Hitler had any vendetta against the family.  Of course, it comes as no surprise that Adolf sought to harm the children of Francis Ferdinand and his wife Sophia, both slain in the summer of 1914.
This is a sad story of a devote Christian family, oppressed and tortured, who nevertheless maintained faith and dignity.  (I reviewed this book last February.)
Last Hope Island: Britain, Occupied Europe, and the Brotherhood that Helped Turn the Tide of War by Lynn Olson
Outstanding study of how the countries conquered by Hitler continued their resistance from the sole outpost of freedom–Great Britain.  So much here was new to me, in spite of a lifetime of reading on World War II.  So many unsung heroes and heroines.  Reviewed in March under the title "World War II in Books." I am now a collector of anything that Lynn Olson has written.
Liberty in the Things of God by Robert Louis Wilkin
Outstanding study of the development of Christian liberty of conscience.  I really loved this book.  Worth reading again and again.  Vital due to our lack of understanding of religious freedom and the misconceptions that assume that such freedom is the product of unbelievers.
Reviewed in May.
The British are Coming, Volume 1 of the Revolution Trilogy by Rick Atkinson
I loved Rick Atkinson's trilogy on World War II, love this book, and look forward to the next two volumes.  I must confess that my greatest comfort in reading this account of the American War for Independence came from knowing how the story ends.  In the midst of this book, I kept thinking, "We are going to lose this war."
Sand & Steel: The D-Day Invasion and the Liberation of France by Peter Caddick-Adams
Lengthy, detailed study of the preparation and execution of the Normandy invasion. Review written in August.
This year was the 75th anniversary of the greatest military invasion in all of history:  The D-Day Normandy Landings in France on June 6, 1944.  This account was incredibly packed with both big picture explanations of the events along with the up close and personal accounts of those who were there.
I am sold on this author/historian which resulted in me buying his equally lengthy book on the Battle of the Bulge, titled Snow and Steel.
A Christian and a Democrat: A Religious Biography of Franklin D. Roosevelt by John F. Woolverton and James D. Bratt
Review written in September.
As expected, my favorable review of this book garnered me a few criticisms from my normally adoring public following.  Conservatives so dislike FDR that many cannot pause long enough to give him credit for anything.  I enjoyed this detailed, but still inadequate account of FDR the man and his faith.  Was he truly a Christian?  I am not sure that is a question for historians.  He was not shallow in regard to his faith commitment.  He had a life-long attachment to Christianity, was a long-time and faithful church member, was vocal about his beliefs, and was spiritually minded on the personal level and not just for political purposes.
His faith was diluted by the social gospel and more liberal elements then in vogue.  His life was concerning because of some of the moral failings.  Still, this is a good study of a complex and great man.
Did America Have a Christian Founding? By Mark David Hall
Review written in November.
How delightful the discover of this book has been.  I became Facebook friends with Dr. Hall and have entered on the quest of obtaining and reading every book he has written or edited.  The topic of this book is one that I have long read and studied.  But, if I had only one book to read and consider on this topic, this would be the one.
The issue here is vital.  Like the Achaians and the Trojans battling over the slain body of Patroclus in The Iliad, our culture has been fighting over the role of Christianity in our history and culture for a long time.  By the way, Protestants have done some stupid things along the way, and those actions are recounted in this book.  Myths are presented and documented and then dealt with forcefully by that old sly trick of historians–going to the sources.
America's Religious History: Faith, Politics, and the Shaping of a Nation by Thomas Kidd
Shame on me here.  I did read and enjoy this book, but I really should have completed my homework assignment and read the two volume American History by Dr. Kidd published by B & H Publishers.
I have long wanted to find a better American history survey than the one I use in my classes.  And Thomas Kidd is one of the brightest and most prolific stars on the stage of Christian historians.  I have a number of his books and am intent on getting and reading all of his works.
I did read this short history of religious faith in America.  On the one hand, Sidney Ahlstrom's book, A Religious History of the American People,  has some advantages over this book.  However, Ahlstrom's book is massive and much older; it is great for a long, serious study of the issue.  The strength of Kidd's book is its brevity.  Many times, I was shouting "More, More!"  But I was often coming across ideas, people, and beliefs I had never heard of.  I would love to use this book as required supplemental reading for a college American history survey.
Reviewed briefly in "When Religion Meets History and Philosophy" in November.
The Soul of the American Presidency:  The Decline Into Demagoguery and the Prospects for Renewal by Stephen Knott
Excellent read that I reviewed just a week ago in December.
I wish I could say something deep, scholarly, and profound, but I will have to fall back on this response:  I thoroughly enjoyed and loved this book.  I read lots of politically related books and teach government.  I have studied Presidents ever since the election of 1964, in which I was–unknowingly–for the wrong candidate.
Did I agree with Stephen Knott at every step?  No way, but I found many things to reconsider, to re-enforce, and to reconfigure ways of thinking about the Presidents.  His heroes include some Presidents I find less lovable.  His villains include some of my heroes.  That was part of the fun, accompanied by pain, in reading this book.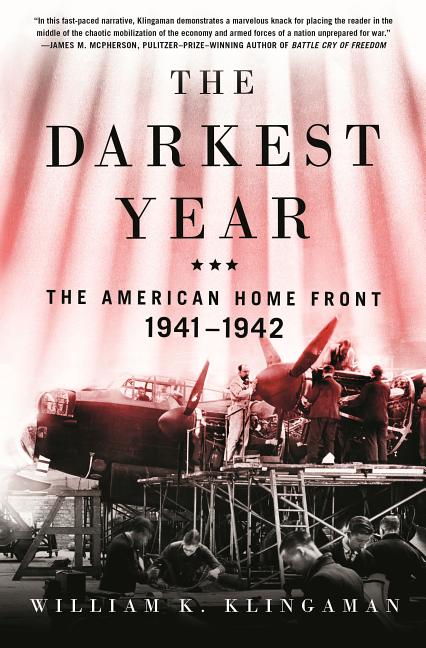 The Darkest Year: The American Homefront 1941-1942 by William Klingman
Fascinating and heavily anecdotal account of the wild and chaotic year after the U. S. entered World War II. How in the world did we ever win the war? Hundred of anecdotal details about the first year of America's involvement in World War II.
Reviewed this book in May.