The school year is winding down.  There are only three and half days to go, and most of the time will be spent taking semester tests.  My students are tired, yet busy.  With so much to do, I felt it necessary to only assign two books in the past weeks or so.  One is The Old Man and the Sea by Ernest Hemingway.  That is a quick read, but a powerful one.  A reader might argue that it is Hemingway's best.
The other book is Robert Frost's Poems (as seen above).  This edition is edited by one of the great men of letters of America past, Louis Untermeyer.  I ache when thinking of all the poets and poetry we did not cover, but Frost will have to suffice.  He stands tall across the pantheon of American writers.  He has been America's most popular poet for decades.
Some of my students have asked, "How many of the poems should we read?"  There is always in the student mind that false assumption that the literature teacher is assigning a quantity of material to be read.  If I say "50," they are relieved and dash away to start counting their readings.  I never give a number.  I say, "Immerse yourself in Frost's poetry."  Then I tell them that I have them all and have read many of them repeatedly.  I think a fair student could survive in life if they read all the poems in this book between 2 and 20 times (before they turn 25).
I read lots of Frost when I was in high school.  DeKalb, Texas was not quite New England, but walking through the pastures and woods around my home certainly heightened my understanding of some aspects of Frost's writings.  Like many, I confusedly thought him to be a "nature poet."  I did not immediately grasp the human conflicts, the mysteries, darker truths, or philosophical underpinnings of his verse.  A little over forty years after I started liking Frost, I find him deeper and better than the man of rhyming words I knew when I was in high school.
I got my copy of this Frost collection in Bowling Green, Kentucky.  My parents and I were vacationing there.  We didn't know much about what to look for or see in Kentucky, but we did stop by a bookstore somewhere.  (That was not a usual event in my life.)  I bought and read and reread my copy of this book.  It looked like the one below"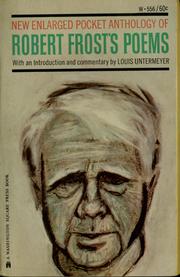 There are quotes and analyses, agreements and disagreements, questions and answers one could explore regarding Robert Lee Frost.  But I prefer to list what I think are a few of the essential poems to read repeatedly and, in some cases, to memorize.  The only pattern to the order is my remembering the titles:
1.  "Birches"
2.  "The Pasture"
3.  "Mending Wall"
4.  "The Road Not Taken"  (Absolutely!)
5.  "Stopping By Woods on a Snowy Evening"
6.  "Death of a Hired Man"
7.  "Two Tramps in Mud Time"
8.  "The Figure in the Doorway"
9.  "The Wood-Pile"
10.  "Tree at My Window"
11.  "After Apple-Picking"
12.  "The Need of Being Versed in Country Things"
13.  "The Runaway"
14.  "Design"
15.  "Departmental"
16 "A Minor Bird"
17.  "Never Again Would the Birds' Song Be the Same"
18.  "For Once, Then, Something"
19.  "Dust of Snow"
20.  "My November Guest"
21.  "Fire and Ice"
22.  "Acquainted With the Night"
23.   "The Tuft of Flowers"
24.  "Provide, Provide"
25.  "Two Look at Two"