First of all, this post is just for fun and to help me celebrate Presidents Day, even though I am not dealing with either #1 or #16.  Second, it does work either logically or historically.  Logically, if A, then B, but if not A, then not B makes sense.  If some of my Presidential choices had happened, everything that followed would not have happened.  What are the odds, for example, that Richard Nixon would have been riding down a street in Dallas, Texas on November 22, 1963 if he had been elected President in 1960?
I am posting my choices of who I would want to have voted for, based on the perspective of having studied most of these campaigns from afar, and who I would have posited as my preferred choice or choices in some cases.  Feel free to join the party, whether it is the Republican or Democrat Party, here.
Oh, to clarify, I am beginning with the election of 1900.  I am listing the Republican candidate first and the Democrat second.  If this offends you, think of it as either saving the best for last or first is….uh…first.  Maybe I can cover the prior elections on a future post.
1900:  William McKinley/Theodore Roosevelt vs.  William Jennings Bryan.
As in 1896 in which the same two were running, I would opt for McKinley.  I love so much about "The Great Commoner" William Jennings Bryan, except for his political views.
1904  Theodore Roosevelt vs. Judge Alton Parker
I vote TR.  I reckon that Parker was the more conservative, more Cleveland-like candidate, but U. S. history would be missing so much without having TR in the White House.  My love for his personality trumps my concerns about some of his politics.
1908  William Howard Taft vs.  Bryan (his third run failed run.
I vote Taft.
1912  Taft vs. Woodrow Wilson and both of them vs. Theodore Roosevelt (Bull Moose Party) (and also Eugene V. Debs, Socialist)
Taft again.  TR's more radical positions came more to the forefront, but you have to admire his speech given after being shot.
1916  Justice Charles Evans Hughes vs.  Pres. Wilson
I vote Hughes. "He Kept Us Out of War" rings hollow in the light of history.
1920  Warren G. Harding/Calvin Coolidge vs. James Cox/Franklin Roosevelt
I vote Harding/Coolidge, wishing it had been Coolidge/Harding.  "Normalcy" ain't such a bad word.
1924  Calvin Coolidge vs.  John Davis  (One can also add Progressive Robert LaFollette, if you wish.)
EITHER.  This was my dream election–both honorable, capable men.  Both conservative.
1928  Sec. Herbert Hoover vs. Gov. Al Smith
I vote for "The Happy Warrior" Al Smith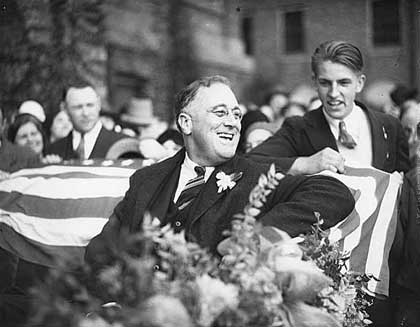 1932  Herbert Hoover vs. Franklin D. Roosevelt
I vote Hoover.  After all, somebody needed to vote for him.  Being Southern, Texan, and knowing about the Great Depression's effects, I admit that I might have voted for FDR.  Ronald Reagan often quoted from FDR's 1932 campaign platform.  I would have preferred his VP Texan John Nance Garner.
1936  Alf Landon versus FDR
Landon, but the fact of being a Texan and Southerner might have kept me voting Democrat–reluctantly.
1940  Wendell Wilkie vs. FDR
Awful election choices.  Garner tried to get the Democratic nomination, but FDR held it and went for the unprecedented 3rd consecutive term. Wilkie was just a businessman with no political experience and was very close to FDR in many views.  But I vote Wilkie because some of the Agrarians supported him.
1944  Gov. Tom Dewey vs. FDR
I vote FDR, but only because of the course of World War II and because he dropped Henry Wallace as VP in favor of Truman.
1948  Dewey vs. Truman
Dewey represented the more liberal/northeastern wing of the party.  Truman had spunk, detested Communists, and had some good gut instincts (honed by years of reading history).  Besides, it is sad to think of the picture above if Truman had been frowning.
As a Southerner, I had a fondness for Strom Thurman.  Both poets Donald Davidson and Robert Frost voted for him.  I might have as well.  But I am glad Truman won that year.
1952  and 1956 Dwight D. Eisenhower vs Adlai Stevenson
I vote Ike in both cases. Stevenson was not as liberal as many in the party and had some attractive qualities.  Truth be known, I really opt for the Republican Party choosing Robert Taft in 1952.
1960  Richard Nixon versus John F. Kennedy
Two bright, handsome, young, dynamic men, both terribly flawed.  This is the first election I remember as a child.  My sister explained to me that we were for Kennedy because he was better looking.  Maybe so, but I would have reluctantly voted for Nixon.
1964  Sen. Barry Goldwater vs. Lyndon B. Johnson
Goldwater ran one of the most inept campaigns in history.  LBJ's ability to pass a Civil Rights Bill and a brilliant tax cut were outstanding actions.  Oh yes, Goldwater should have put William Scranton in the ticket as his VP.
But let there be no doubt, I would have been in the AU H2o camp all the way.
1968  Richard Nixon vs. Hubert H. Humphrey and both of them vs. Gov. George C. Wallace
What a calamitous year!  I admire much about Humphrey and about Gov. Wallace (flaws notwithstanding).  It would have been far better had the Republicans nominated the articulate Gov. Ronald Reagan of California or even Gov. George Romney of Michigan.  Maybe even Gov. Nelson Rockefeller would have been better than Nixon.
I was for Humphrey back in 7th grade, but now I would reluctantly vote Nixon.  Brilliant man, flawed leader.
1972 Nixon vs. George McGovern
I vote Nixon again.  Sen. McGovern was a really good man in his heroic military service and personal life.  But his left-leaning politics were atrocious.  His minions captured control of the Democrat Party by changing rules, but that's politics.
1976  Ford versus Gov. Jimmy Carter
I voted for Pres. Ford in this, my first, election to vote in.  But in the previous May, I voted for Ronald Reagan in the Texas Primary. I wish the Democrats had nominated Sen. Henry Jackson, the last of the old-time Cold Warriors.
1980 and 1984
Reagan vs.  Carter in 1980
Reagan vs. Mondale in 1984
Me–Reagan all the way.  He is my favorite.  Once, I got his autograph; twice I saw him.
1988–1992–1996
George Bush vs. Michael Dukakis
Bush vs. Bill Clinton and Ross Perot (Independent)
Robert Dole vs. Pres. Clinton and Ross Perot (Independent)
I wish 1988's Republican candidate had been Jack Kemp.  I voted for Bush in '88 and then voted for the hapless Constitution Party in '92 and '96.
I favor Bush and Dole with a bit of reluctance.  Their WWII records, however, are highly respected.
2000 and 2004
George W. Bush vs. Al Gore
Bush vs. John Kerry
I voted Bush both times.  Imperfect, but honorable in many ways.
2008 and 2012
Sen. John McCain vs. Sen. Barack Obama
Gov. Mitt Romney vs. Pres. Obama
I voted for both Republicans.  I don't think Sen. McCain would have been a good President, and I supported Mike Huckabee in the primary.  I was for Rick Santorum in the Republican primary, but came to really like Romney.
2016
Donald Trump vs. Hillary Clinton
This was one of the most interesting campaigns ever with two of the worst candidates ever.  Shortly before going to the election location, I decided to stick with the Republican Party because of Mike Pence.  My state, Arkansas, was very Red.  (We didn't have much regard for our former First Lady of the state and of the nation.)  The election would have been much better had it been Vice Presidential candidate Pence vs. Vice Presidential candidate Tim Kaine.
I much preferred Sen. Marco Rubio as the Republican candidate.  Second choice was Sen. Ted Cruz.  I could have been comfortable with any number of other Republicans, but you don't have those choices on election day.